Options: A Good Time to be Short Is a Bad Time to be Long
01/28/2016 10:40 am EST
Focus: OPTIONS
Citing the stock of this American multinational conglomerate corporation for support, options instructor Russ Allen, of Online Trading Academy, explains that the two simplest possible option trades for a bullish situation are buying call options or selling short put options.
In part one of this series I went over the types of options expiration dates. In the second and third parts, we continued with a discussion of the option chain and time in the trade.
In this series, I have been using the stock of General Electric (GE) as an example. Here is its chart as it appeared on January 13: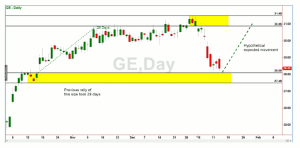 Click to Enlarge
We were looking at this as a bullish example, discussing which expirations to choose for call options.
In the last paragraph of part 3, I said "Finally, we should consider the question of whether, in this circumstance, we would want to be buying call options at all. We could also make money from this move by selling put options short instead. That is a choice that we would make based on whether options were underpriced or overpriced."
Today we'll look at that further.
This is a chart of GE as of Wednesday, January 20, 2016: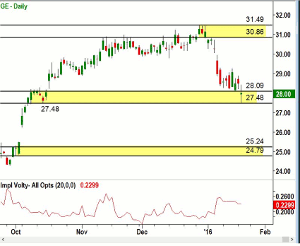 Click to Enlarge
The area of demand that we had identified earlier from $27.48 to $28.09 had so far held up. Coincidentally (or not), the lowest price reached before a bounce Wednesday was exactly $27.48, the lower bound of our previously identified demand zone. If we had the nerve for it, this was still a possible bullish play.
The two simplest possible option trades for a bullish situation are buying call options or selling short put options. We discussed buying calls last time and explained why we would want to look for options with an expiration a few months away when buying.
Note the indicator in the bottom of the above chart. This is implied volatility, which is an indication of over- or under-pricing of options. The current reading was quite high indicating that options were expensive. When that is the case, then being a short seller of options, rather than a buyer, is indicated.
Let's say that we decided selling put options was our best choice. The plan would be to collect money for selling the options now to people who believed that GE was going lower and then wait for the options to become worthless when GE did not go lower.
When we use this kind of plan, we want the options to be in the last few weeks of their life. That is when their value drops fastest. Remember that when buying calls, we specifically did not want to own the options in the last few weeks of their life and for the same reason. A good time to be short is a bad time to be long.
Since the February cycle ends on February 19, that would be a good choice for an expiration date. To read the entire article click here…
By Russ Allen, Instructor, Online Trading Academy