Supreme Cannabis Making Waves
03/17/2019 11:00 am EST
Focus: CANNABIS INVESTMENTS
In February, the Supreme Cannabis Company (TSX: FIRE) made several announcements that highlighted its growing leadership position among North America's legal Cannabis distributors.
On Feb. 7 it announced that its wholly owned subsidiary, 7ACRES, has entered into a supply agreement with the New Brunswick Liquor Corporation to supply recreational cannabis to its retail stores and has been registered as a supplier in the province of Saskatchewan.
A day later Supreme Cannabis received approval from The Depository Trust Company (DTC) of New York to make the Company's shares DTC eligible. DTC is a subsidiary of the Depository Trust & Clearing Corporation, which manages the electronic clearing and settlement of publicly traded companies.
And finally, on Feb. 12, Supreme Cannabis reported record growth in the second quarter fiscal year 2019. Below are some highlights from the report:
Q2 2019 revenue for the Company was $7.72 million, a 359% increase from Q2 2018 ($1.68 million) and a 50% increase from Q1 2019 ($5.14 million).
Q2 2019 net comprehensive loss for the Company was $1.55 million, compared to a net loss of $2.03 million in Q2 2018 and a net loss of $5.39 million in Q1 2019.
During the quarter, Supreme Cannabis strengthened its balance sheet by raising $100 million of gross proceeds through a bought deal offering of 6% unsecured convertible debentures due 2021 and led by GMP Securities L.P. and BMO Capital Markets.
Supreme Cannabis made its first shipments of 7ACRES branded High-End Cannabis to six of Canada's provincially regulated adult-use channels.
"We're pleased with our second quarter results, which show meaningful revenue growth quarter-over-quarter and continues to reflect our strong operational execution," said Navdeep Dhaliwal, CEO of Supreme Cannabis in a release. "Since Supreme received its license over two years ago, we have been one of the fastest scaling Licensed Producer's in Canada, demonstrated by one of the strongest first years of revenue in the sector."
The expanded distribution and DTC eligibility has the potential to turbo charge what has already been dramatic growth.
Saskatchewan and New Brunswick are the seventh and eighth provincial partners for 7Acres alongside British Columbia, Alberta, Manitoba, Ontario, Nova Scotia and PEI.
"We're excited to announce that 7ACRES-branded products will be available for adult-use in eight Canadian provinces coast-to-coast," said Dhaliwal. "In a short amount of time, 7ACRES has won multiple awards and received overwhelmingly enthusiastic consumer feedback. Our Company has made it a priority to expand 7ACRES' domestic distribution so that more Canadians will be able to experience our High-End Cannabis products."
DTC Eligibility
Securities that are eligible to be electronically cleared and settled through DTC are "DTC eligible". This electronic method of clearing securities speeds up the receipt of stock and cash, and thus accelerates the settlement process for certain investors.
"DTC eligibility greatly simplifies the process of trading our common stock in the United States, further improving our investment appeal south of the border," Dhaliwal said.
In a short period of time, Supreme Cannabis has not only a demonstrated its fiscal sustainability, but also provided proof of its long-term growth outlook by expanding its distribution channels and created the ability for investors to invest in the burgeoning Cannabis sector leader more easily.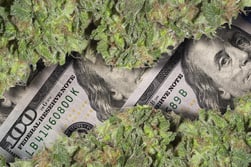 Supreme Cannabis Making Waves
03/17/2019 11:00 am EST
In February, the Supreme Cannabis Company (TSX: FIRE) made several announcements that highlighted it...