A Dow Theory Darling
01/25/2013 9:00 am EST
Focus: STOCKS
When it comes to playing the fundamentals in a recovery, it starts with the transports, and nothing defines domestic transport than a company that specializes in trains and train parts, notes Jack Adamo in Insiders Plus.
Gimme a brake. Or at least a brake company.
Specifically, one from Westinghouse Air Brake Technologies Corporation (WAB). Wabtec, as it calls itself nowadays, provides products and services for the freight rail and passenger transit industries worldwide. The Freight Group builds, rebuilds and services freight locomotives and freight cars, and supplies railway electronics and railway signal equipment.
The Transit Group manufactures, rebuilds, and services commuter locomotives, subway cars, and buses. Many Wabtec products are very high tech electronic systems used in various safety applications, including such things as GPS tracking of trains and buses. The company was founded in 1869.
In case you're an art lover like me, let's start this story with a beautiful picture.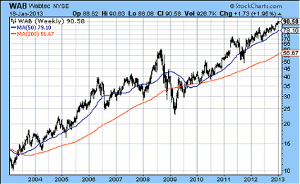 Click to Enlarge
The stock is up more than seven-fold in the last 10 years, and as you can see by the above masterpiece, there isn't the slightest hint of deterioration on this beautiful canvas. There's no wondering why. Railroads carry 43% of North American inter-city freight. Today's average train carries a ton of freight 400 miles on one gallon of diesel fuel, whereas trucks get 130 ton-miles per gallon.
Coal is the single-largest load factor at about 45% of carloadings in 2011, but intermodal traffic-the movement of trailers and containers by rail in combination with other modes of transportation-has been the railroads' fastest-growing market segment in the past 10 years. At some point intermodal is likely to exceed coal traffic in the US, which is probably in slow secular decline, but that is not the case in Europe, Asia, South America and Australia where coal and freight hauling in general continue to grow. 47% of Wabtec's sales are outside the USA.
While rail traffic is influenced by economic conditions, Wabtec's orders and earnings are less volatile than the economies it serves, since it takes a long, structural decline in economic activity to affect the maintenance and replacement part of the company's business, which represents 57% of sales. What's more, the Asia/Pacific market is now Wabtec's second-largest geographic segment, as well as its fastest growing. It is likely to continue to make up the slack in the Western economies.
One little finishing touch on this beautiful picture is that in 2008, the US enacted a bill that mandates the use of Positive Train Control ("PTC") technology by the end of 2015. This includes on-board locomotive computer and software of which Wabtec is the leading supplier.
A House committee proposed extending this deadline to December 31, 2020, for the sake of smaller railroads with limited funding, but the date to make that change expired December 31, 2012. I can find no news to show that the deadline was extended. It is possible it fell victim to the all the wrangling over fiscal issues. In any case, if enacted, the extension would postpone a relatively small part of the spending for this mandate.
Wabtec's dividend is nominal. The stock is selling for 18-times trailing earnings and industry analysts expect earnings to grow 12% in 2013. At 12% annual growth, the stock would triple in the next 10-years. I can't guarantee that, but I'm very comfortable putting money into this rock-solid long-term investment. Westinghouse Air Brake Technologies Corp. is a buy up to $94.
Related Readings:
4 Ways to Get Down and Dirty in the Energy Patch