Join Marilyn Cohen LIVE at The MoneyShow San Francisco!
Join Marilyn Cohen LIVE at The MoneyShow San Francisco!
A Junk Bond Winner
09/17/2012 7:30 am EST
Focus: ETFs
Sometimes it's just easier and better to buy a junk-bond fund than looking for individual bonds, and this fund is exactly the way to go, writes Marilyn Cohen of Bond Smart Investor.
The Pimco 0-5 Year High Yield Corporate Bond ETF (HYS) is a prime example of a leopard changing her spots.
I realize that I've recommended more open-end, closed-end, and ETF's over the past two years than I have in my 33 years in the bond industry. That's because of the challenges in execution, pricing, seeking yield, and diversification.
Pimco's 0-5 Year ETF is a real beauty that I think brings value, yield, and diversification. In this singular package, there are bonds we've recommended in this newsletter (CIT, MGM, CTL, and AIG to name a few). And, even better, there are many that we haven't recommended. Listed on the exchange, this ETF can be pointed and clicked on to gain access or to get out.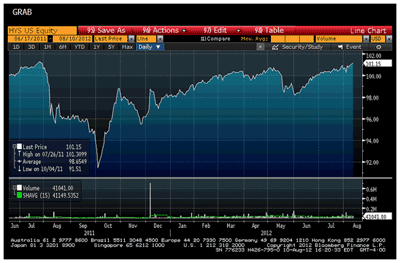 Click to Enlarge
With 226 bond holdings, an expense ratio of 55 basis points, and selling at a slight premium over net asset value—plus the cache of the Pimco name—to paraphrase Guy Fieri from his Food Channel TV show Diners, Drive-ins, and Dives: Winner, winner, junk-bond dinner.
With a yield of 5.62%, this is a buy.
Subscribe to Bond Smart Investor here...
Related Readings:
3 Income Funds That Will Persevere
Why Everyone Is Piling Into Junk Bonds