Yamana Gold (AUY): Low-Risk Covered Call Play
09/08/2009 10:57 am EST
Focus: STOCKS
Covered call trading may not be the hot topic at trader cocktail parties, but the strategy can provide steady, relatively low-risk gains when deployed as part of a rational, well thought out trading plan.
Yamana Gold, Inc. (AUY) is a Canada-based miner that focuses heavily on gold and copper mining operations in Central and South America. The company's common stock has had it share of ups and downs, but the recent action on AUY's weekly chart is especially attractive, especially to those who may wish to open a near-term covered call position.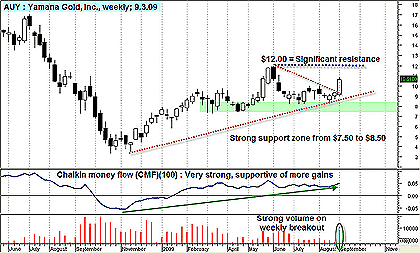 Click to Enlarge
Graphic credit: Metastock
A little background first. Recently, the price of gold has begun to approach the psychologically important $1,000 level, the first time since February of this year. This has had a pronounced effect on gold mining stocks, which frequently magnify the up and down moves in the price of the underlying commodity due to the power of leverage.
If the price of gold jumps $50 in one day, the value of AUY's proven gold reserves are essentially revalued, thus having an immediate effect on the price of the company's stock. That's what appears to be happening this week, and the huge white weekly candle and correspondingly high weekly volume confirms it. AUY has also broken out of a triangle of sorts and may actually have a good shot at reaching the next overhead resistance at $12.00 in fairly short order. Additionally, AUY's long-term money flow is exceptionally strong (as depicted by the 100-week Chaikin money flow indicator (CMF)(100), and is gaining ground.
Opening a short-term covered call seems to make a lot of sense now, and here's why:
AUY has very solid support just beneath the weekly candle, near $9.00, and the red uptrend line appears to offer the perfect stop-loss barrier for a trade like this
The short-, intermediate-, and long-term trends in the stock are all up on a technical, fundamental, and/or seasonal basis
The stock has some room to run before major resistance kicks in (the June 2009 high at $12.00)
Call option premiums are reasonable
The trade has a lifespan of only six weeks, expiring on October 16, 2009
The trade logic completely sidesteps all of the long-term, "super bull" gold price projections of $3,000 to $5,000 per ounce, none of which have any real bearing on short-term, low-risk money making opportunities.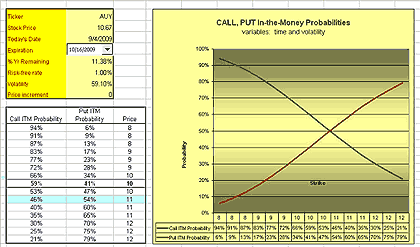 Click to Enlarge
Graphic Credit: Option Wizard
As I write this, AUY is going for about $10.63 per share and an October $11.00 call (slightly out of the money) is fetching about $.65. So if AUY is at $11.00 or higher six weeks from now, the shares will be called away (remember, one call option controls 100 shares of the underlying stock) at $11.00, netting you $37 in profits for every 100 shares purchased at our hypothetical price of $10.63.
Additionally, you will also keep the entire call premium, netting you another $65. Therefore, the maximum gain on the trade would be about $102 per covered call, not including commissions. If you have a sizable trading account, perhaps you could buy more than one covered call (also known as a buy-write), as five of them would net you about $510 before commissions. The graphic above shows some of the essential option-related stats for this trade. We see that the probability of AUY expiring at $11.00 on October 16, 2009 is approximately 46% assuming that the implied volatility reading of the stock remains at 59.10%. Even though those don't appear to be great odds, remember that we've already determined that AUY's technical situation greatly improves the chances of success on this particular covered call trade, regardless of the raw stats provided by the option probability calculator on this particular trade.
Of course, this trade could turn out to be a clinker, but even there, covered call trading gives you some options (pardon the pun!). Should AUY fail to close at or in the money at October options expiration, and if you believe AUY has outstanding prospects for the long-term, you could simply choose to hold on to the stock, possibly also choosing to sell another call option against your shares.
If the trade reverses suddenly, closing below this week's low (or the red uptrend line), you could also close the entire trade out for a modest loss. The big idea is to limit your risk so that no matter what happens on any given trade, you're only going to lose a maximum of 1%-2% of your trading account's capital. That way you get to play again, hopefully with a better, more profitable trade outcome next time.
Overall, this covered call play in Yamana looks very attractive and may be worth further investigation by traders and investors seeking to increase their net worth by a modest amount.
By Donald W. Pendergast Jr. of ChartW59.com