Why Traders Love Morning Gaps
05/18/2015 7:00 am EST
Focus: STRATEGIES
Gap patterns on the charts are a favorite of many traders and you should learn how to read the price action in order to take advantage of these prime trading opportunities, says Brandon Wendell of Online Trading Academy.
Gaps are a normal part of trading. Traders can view these gaps as a great inconvenience or an excellent opportunity. The key is to see what the price action is telling you after it gaps.
Stocks gap due to a massive imbalance between buying and selling pressure. In an effort to balance out these orders, the price will gap to an area where the market's supply and demand equation is right for filling the orders of the traders and investors. The gap left behind is a vacuum where there is an absence of buyers (a gap down) or an absence of sellers (a gap up).
An interesting thing to see is whether prices were able to gap beyond the prior day's price action. When I speak of the prior day's price action, I am referring to the movement of price between the prior day's high and the prior day's low.
If prices gap, but do not open above the prior high or below the prior low, then the gap is called an inside gap and is likely to fill during that day.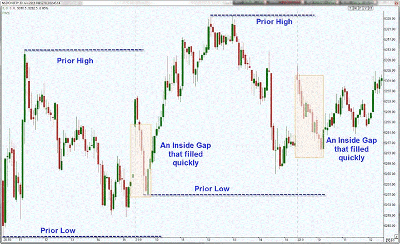 Click to Enlarge
As an intraday trader, I can identify stocks that are exhibiting this pattern and plan trades to take advantage of the gap filling as long as the nifty is also confirming the movement.
This could also have huge implications for swing traders, as a gap that occurs opposite to their position may be able to be ignored, thus preventing panic and an early exit.
Should price gap above the prior high or below the prior low, then the gap is considered to be an outside gap. Outside gaps also offer interesting trading opportunities. They tend not to fill in the day, but will change direction at the prior high or prior low.
If a stock does gap above the prior day's high, it is an outside gap and will likely only fill until it reaches the prior high, which will act as support. If the markets are bullish, then expect a bounce here for a long.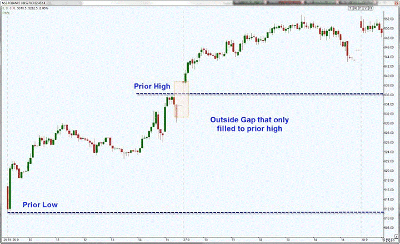 Click to Enlarge
If the stock gaps down and tries to fill the gap, often the prior low will act as resistance and cause the stock to drop from that point, thus identifying a shorting opportunity.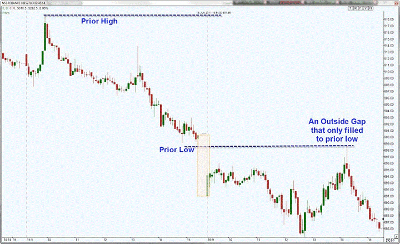 Click to Enlarge
There are always exceptions to these guidelines on gaps and traders should exercise caution and discretion when identifying trading opportunities surrounding gaps. Look at the broad market and also larger trends for guidance, and above all, place protective stops to manage your trades.
By Brandon Wendell, Instructor, Online Trading Academy