Pizza Stock Delivering Hot Profits
07/11/2011 12:02 pm EST
Focus: STOCKS
Shares of Dominos Pizza, Inc. (DPZ) have really delivered this year, reaching a new annual high, and if the uptrend continues, there could be considerable remaining upside potential in excess of 15%.
Before I get into the reasons for a long trade in Dominos Pizza, Inc. (DPZ), please realize that the market will likely still be under major stress this week on the heels of an abysmal employment report. There is never a need to have the feeling that you "must" be in a position, because holding cash is a strategy.
This market has been on a ridiculous tear, and trees never grow straight to the sky without a pause.
The jobs number from last week I think was worse than even the biggest skeptic imagined. You may, however, start hearing rumblings of QE3 or perhaps other forms of easing. That would lift the market for sure, but only puts a band aid on the real problem.
Talks are brewing on a compromise of sorts regarding the debt ceiling, and those talks will heat up over the weekend and into the early part of this week. A resolution on that front, in my opinion, would be a further catalyst for rising stock prices.
The Stock
Dominos Pizza, Inc., through its subsidiaries, operates as a pizza delivery company in the United States and internationally. The company sells and delivers pizzas under the Dominos Pizza brand name. It operates through a network of 9,351 company-owned and franchise stores located in 50 states and approximately 65 international markets. The company was founded in 1960 and is headquartered in Ann Arbor, Michigan.
Chart Action
The stock had a breakout in mid-May and has been in a nice trend ever since. DPZ hit new highs for the year on Friday and traded well last week considering the condition of the market.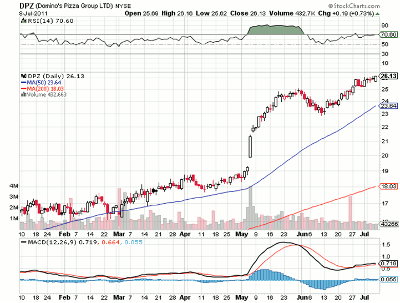 Click to Enlarge
The stock is currently trading at the $26 level, and I believe if DPZ can break through Friday's high, accompanied by volume, the shares could head to the $30 level as a first stop.
By Joe Donohue of UpsideTrader.com