Energy Stock That's Cooking with Gas
05/14/2012 1:23 pm EST
Focus: STOCKS
Strong recent earnings and the likelihood for an upside rally in the broad energy sector makes for a compelling long scenario for McMoRan Exploration Co. (MMR), writes Joe Donohue of UpsideTrader.com.
Energy has become the red-headed stepchild in this current tape. A year back we were worried about lighting our stoves, and now we are awash in Texas tea. The Select Sector SPDR - Energy (XLE) is in a strong correction, but everything gets cheap at a price. Just look at the 30% rally in natural gas in just the last three weeks.
McMoRan Exploration Co. (MMR) engages in the exploration, development, and production of oil and natural gas in the shallow waters of the Gulf of Mexico and onshore in the Gulf Coast area of the United States. It is involved in lifting oil and natural gas to the surface. It gathers, treats, and processes hydrocarbons to extract liquids such as ethane, propane, and butane from natural gas.
The stock reported earnings a couple of weeks back and beat the Street estimate by ten cents.
I'm long because I think we are overdue for a bounce in energy as well as the actual commodity. My range on crude is $95 to $105, and we currently trade around $96.50.
My target for MMR is between $10 and $12 over the next few months.
Here is a recent daily chart: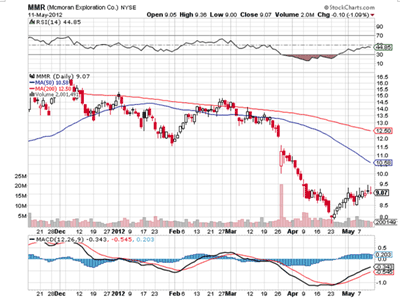 Click to Enlarge
By Joe Donohue of UpsideTrader.com