Technical Analysis of Credit Card Companies
09/07/2012 9:00 am EST
Focus: STOCKS
Greg Harmon of Dragonfly Capital explains why the news of one large company selling shares of a credit card company only affected the price slightly.
American Express (AXP) broke higher last Friday, only to pull back Wednesday. Discover Financial Services (DFS) has been trending higher since June, but it was hit as well, falling 2% like American Express. The big guys, MasterCard (MA) and Visa (V), took a bit of a hit, but less than 1%, and stayed within their recent consolidation zones.
These downward moves happened with the only real news in the sector coming from Capital One Financial (COF). ING is selling their roughly 10% stake in the card company.
What happened to them, you ask? They had less than a 1% change in their stock price. A 10% dilution moved the stock 67 basis points.
Why is this important? That is where the fundamentals sit down and the technicals come in to give an explanation. Here is a recent daily chart: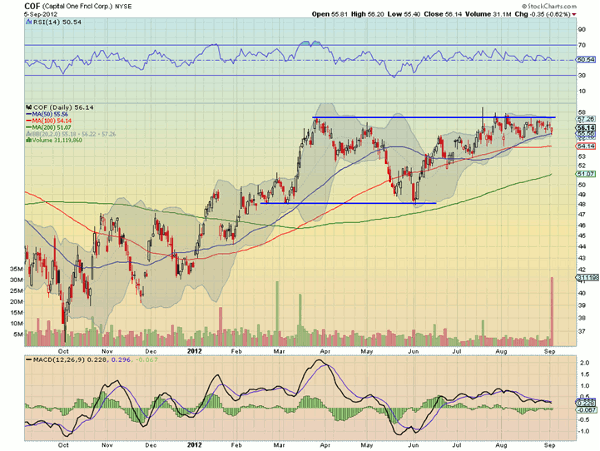 Click to Enlarge
The chart above shows that the stock has been consolidating under the 57.50 resistance area with a Relative Strength Index (RSI) that is holding bullish and a Moving Average Convergence Divergence indicator (MACD) that is running near zero.
Consolidation at resistance as news of a 10% dilution is hitting, and the stock just moves with the market. I take away two things from this. First, clearly this was priced into the stock. As others in the sector did break out, this stock did not, perhaps because the dilution was coming.
Second, now that it is here, the stock may be free to break out of consolidation and follow Discover higher. The target on the channel break higher takes it to 66.50, with a smaller Measured Move first to 59.25.
The three-box reversal Point and Figure chart suggests it has even more in the tank, with a price objective of 71. Time to start watching.
Greg Harmon can be found at Dragonfly Capital.