10 Solid Swing Trade Setups
10/29/2012 8:00 am EST
Focus: TRADING
The GDP report released Friday showing that the US economy grew at faster-than-expected rate of 2% failed to counteract the disappointment of Apple and Amazon missing earnings expectations. Ryan Mallory of SharePlanner.com shares some swing trades on his radar.
I really don't like how this market is behaving. Maybe because where I'm at, we have a hurricane coming right our way, but it sure does seem like we are at the calm before the storm here. Lots and lots of stocks are blowing earnings, and behavior in general with individual stocks has been very erratic. So I'm being pretty cautious here.
But I have to tell you, I found a set of gems among the short setups I've listed below, so if we break down hard here in the coming days, I'm bound to add a number of the names that are listed below. But I'm not quite ready to take the bait...yet.
Here are short trading setups that I like: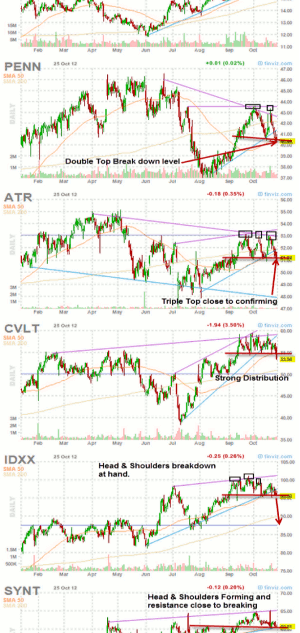 Click to Enlarge
With disappointing earnings reports from Apple and Amazon, but a better-than-expected GDP report, the market has been trying to digest the implications, so it will be interesting to see how these trades pan out.
Ryan Mallory can be found at SharePlanner.com
By clicking submit, you agree to our privacy policy & terms of service.
---
Related Articles on TRADING