Reading the Market Through Bleary Eyes
Focus: STOCKS
With all of the indicators available to traders today, Greg Harmon of Dragonfly Capital offers one that isn't garden variety.
There are many indicators trader and investors use to help read the market and make decisions. The Relative Strength Index (RSI), Fibonacci support and resistance levels, trendlines and Ichimoku Clouds to name a few. But here is one you likely have not heard of. Where are stocks on the Alcohol Cycle?
The Alcohol Cycle

Click to Enlarge
No doubt you will recognize the red labels of the Market Cycle, and I have added the corresponding labels for the Alcohol Cycle. This cycle is measured as which types of Alcohol stocks are peaking and starting to roll over. Take a look at the chart for Craft Brewers Alliance (BREW). As a representative of the premium beer category, it is now in full-blown puking mode and may be overdone. The RSI is technically oversold, with a strong red candle on oversized volume. Look for support at the 6.00 to 6.20 area.
Craft Brewers Alliance (BREW)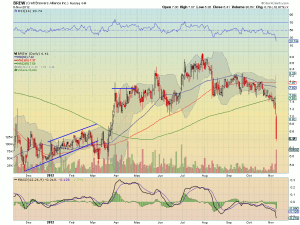 Click to Enlarge
Molson Coors Brewing (TAP) is another good example.
---