A Baker's Dozen of "Strong" Stocks
Focus: STOCKS
Trader and blogger Brian Lund of BCLund.com shares the charts of some stocks that he sees exhibiting relative strength lately.
The markets got a nice bounce last week, however due to the short holiday week and volume being less than desirable, that bounce is guilty until proven innocent.
The name of the game since this market decline started has been "relative strength," and there are a number of charts that are showing that in spades, but first let's take a look at some sector action.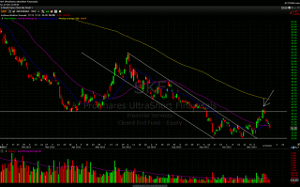 Click to Enlarge
SKF
Two weeks ago I wrote, "After being in a down channel for six months, SKF put in a double bottom and broke out of that channel. If it breaks resistance at around $39.50, that would not be a good thing." Fortunately it failed that breakout (see arrow on above chart).

Click to Enlarge
XLF
The analog twin to SKF, the XLF made a nice bounce off its 200ma, which hopefully means the financials have more gas in their tank.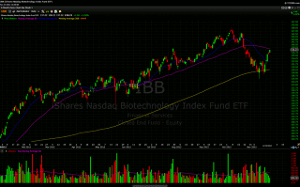 Click to Enlarge
IBB
The biotechs were hot, hot, hot this year but got taken down when the market decline started.
!--start-->
---