The US stock market had its biggest sell-off on Monday since last November, and Ken Shreve of ExplosiveOptions.net notes that when the market is in correction mode, gains can evaporate quickly and small losses can turn into big ones in no time.
It wasn't an easy decision to cut ties with several growth names last week, but after the market's performance on Monday, it looks like it was the right thing to do. A market under distribution—like now—is fraught with risk.
We'll see occasional rallies—like Friday—but with the market now in correction mode, the selling will take time to run its course.
At this point, it's reasonable to expect the S&P 500 and Nasdaq Composite to at least pay a visit to their last breakout areas. For the Nasdaq, that would be around 3,062. It could even try to fill its gap from January 2.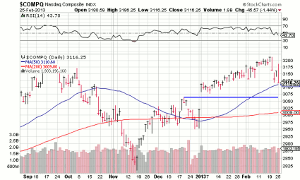 Click to Enlarge
For the S&P 500, we're talking 1,448.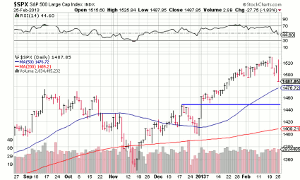 Click to Enlarge
It makes sense to look for short opportunities now, whether it's an index-short ETF or an individual stock.
Proshares Ultrashort S&P 500 ETF (SDS) delivers twice the inverse performance of the S&P 500. So when the S&P 500 is down 1%, the fund will be up 2%. Note that SDS still hasn't broken out the upside yet. Notice how its descending trend line lines up exactly with its 50-day moving average at 50.46. Buying now wouldn't be bad strategy but I'd rather wait for SDS to clear resistance before buying. Click to Enlarge
Portfolio Update
The portfolio is a lot smaller than it was a week ago, but that's the way it should be during periods of intense selling. Gains can evaporate quickly and small losses can turn into big ones in no time. While it's generally good strategy to let your winners run, it's easier said than done sometimes. We had a big cushion in LinkedIn (LNKD), for example, but I decided to play it safe and take remaining profits. Taking remaining profits in Salesforce.com (CRM) last week was sound strategy as well. The stock crashed 4.1% Monday in very heavy volume.
NEXT PAGE: Current Holdings
|pagebreak|
Here's a look at current holdings. One-rated stocks are buys; two-rated stocks are holds. Data as of 2/25 market close.
Long Positions
Michael Kors (KORS), market cap: $11.6 billion: Since the last weekly update, KORS lost about $1 billion in market capitalization. You know it's a bad market when a company like KORS beats its revenue estimate by nearly $100 million and the stock can't attract any buying interest. KORS is still holding above its 50-day moving average, a key support level, around 55.10. Current stop: 54. Rating: 2; initiation date: 1/25/13; price recommended: 57.55; % gain/loss: +0.54%.
EBay (EBAY), market cap: $69.5 billion: The stock is now below its 10-week moving average, but it's still not apparent to me that institutional investors are unloading shares because recent price declines have been in mostly light volume. Current stop: 48. Rating: 2; initiation date: 11/26/12; price recommended: 51.35; % gain/loss: +4.4%.
Five Below (FIVE), market cap: $2.1 billion: Nice day of outperformance and a technical breakout for the small-cap retailer on Monday. The company caters to the pre-teen and teen market, offering all of its products at $5 or below. It currently operates in 19 states and is still in the early stages of expansion. It plans to open 60 new stores this year, bringing the number of locations to about 300. Earnings aren't due until late March. When it does report, look for profit to be up 65% from a year ago to $0.38 a share with sales up 35% to $170.2 million. Current stop: 35.50. Rating: 1; initiation date: 2/5/13; price recommended: 37.85; % gain/loss: +2.72%.
Watch List (Long Ideas)
The stocks below are names that I'd like to own at some point but they're not buyable yet.
Qihoo 360 Technology (QIHU): The provider of Internet and mobile security products also operates a search engine in China that's taking share from Baidu (BIDU). Earnings are due March 5 after the close (eps est. -15% to $0.17 a share, sales +50% to $93.6 million). Click to Enlarge
Cerner (CERN): The healthcare IT firm broke out earlier this month but it's forming another handle area (drifting lower in light volume), which could set the set the stage for another breakout when market conditions improve. Click to Enlarge
Celgene (CELG): It tried to break out over a swing point of 102.29 on Feb. 20 but reversed in heavy volume. Its weekly chart still looks OK, however, as it continues to hold above its 10-week moving average. Click to Enlarge
SEI Investments (SEIC): The asset manager continues to trade tightly, holding gains above its 10-week moving average. Click to Enlarge
Aruba Networks (ARUN): Strong move for the stock last week on bullish earnings. Not buyable yet, but this one has the look of a leader once the selling runs its course in the market. I'm expecting its 10-week moving average around 22.70 to be solid support level. Click to Enlarge
Other high-quality names still holding above their 10-week moving averages include Google (GOOG), Ixia (XXIA), and Imax (IMAX).
NEXT PAGE: Some Ideas for Shorts
|pagebreak|
Short Ideas
Lululemon Athletica (LULU): This is a classic example of what a dry-up in buying demand looks like. After a 1,500% move since the start of the bull in Mar. 2009, the stock remains under distribution as Wall Street frets about growth prospects. The stock continues to face selling pressure. Its 10-week moving average at 69.13 remains a significant resistance level. No earnings date from LULU but it should be on or around March 21. If LULU tries to reclaim its 10-week again and fails, we'll go ahead and short a little. Click to Enlarge
Panera Bread (PNRA): The bakery cafe chain shows several higher-volume weekly declines in recent weeks, which mar its technical picture. Buyers just can't get anything going. The stock has dropped below its 200-day moving average several times in recent months but has rallied back in each instance. A break below its recent low of 153.65 could trigger even more selling. That's the price level to watch for now. Click to Enlarge
Alexion Pharmaceuticals (ALXN): The drug maker shows outstanding earnings and sales growth in recent quarters but fundamentals can often look the best at or near a stock's top. Alexion is in the process of breaking down from a late-stage base. The plan from here is to wait for a rally back to its 10-week moving average around 93. If it meets with resistance again, we'll go short.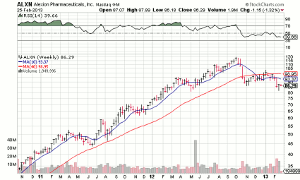 Click to Enlarge
Strategy
I have a top-down approach to the market, which means I pay a lot of attention to price and volume in the major averages to monitor institutional buying and selling trends. I do most of my buying during market uptrends, and I will raise cash during market downturns.
My buying strategy is fairly straight forward. I use a combination of fundamental and technical analysis when evaluating a stock. I like to buy early-stage breakouts from consolidation areas (bases)—not late-stage breakouts by stocks that have made huge price runs already. Momentum is important to me, not only when it comes to price performance but also when it comes to fundamentals. For example, I target stocks showing good momentum in quarterly earnings and sales growth. I like to buy leading price performers in an industry group, not lagging price performers. And finally, I like to buy stocks that are being accumulated by mutual funds and other institutional investors—not being sold.
When I'm wrong on a stock, I don't argue with the market. My strategy is to keep losses small, generally no more than 4-5% below my purchase price. However, when I buy a stock when it's breaking out from a well-defined base (consolidation area), I will generally cut losses between 7-8% below the buy point. Sometimes, I will give a stock a little more room. It just depends on the stock, its trading personality, and where support levels are. When I use daily charts in weekly updates, you'll notice that I plot the 50-day and 200-day moving averages. On weekly charts, they're known as the 10-week and 40-week moving averages.
By Ken Shreve, Contributor, ExplosiveOptions.net