What Makes an Oversold Stock Attractive?
09/05/2013 7:00 am EST
Focus: STOCKS
Just because a stock is oversold doesn't always mean it is ripe for purchase, writes Greg Harmon of Dragonfly Capital, as he looks at the technical pictures of two contrasting stocks.
Many stocks sell off. Sometimes the sell off gets overheated and turns into a rout. This is when it becomes oversold. But what does oversold mean and when it is attractive? Oversold from a technical standpoint can be as simple as having a relative strength index (RSI) under 30. But that does not make it attractive.
Take a look at the two stocks below Aeropostale (ARO) and Travel Centers of America (TA). Both were beaten up very badly on their earnings yet one looks like a turnaround in the making while the other looks like its cold just keep getting worse.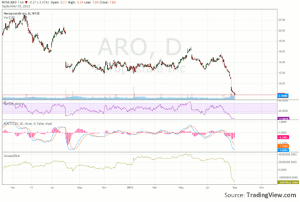 Click to Enlarge
Aeropostale had its RSI cross the 30 level to the downside a while ago. And what has happened to it since then? It just keeps moving lower. But the RSI is also continuing lower. Have you ever seen the RSI under 10? Well keep watching; it is getting close.
Look at the moving average convergence divergence indicator (MACD) as well. The histogram is improving but the MACD line continues lower with no real sign of a cross in the near future.
Finally the accumulation/distribution statistic sold off hard on earnings and also is continuing lower. Traders are still selling it. An oversold condition will not stay oversold forever, but it can stay oversold longer than you can remain solvent. Stay away from this one.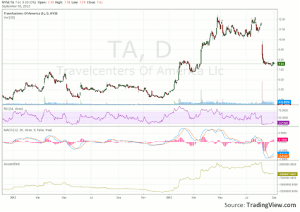 Click to Enlarge
Travel Centers of America is a stark contrast. After moving lower on earnings and the RSI falling under 30, it has stopped the fall on the RSI and price is leveling, maybe even rising slightly on the RSI.
The MACD has moved to positive on the histogram and has crossed the signal line positive. Finally the accumulation/distribution statistic has also leveled. The full mosaic is not a reason to buy this stock yet. But it is a reason to put it on your watch list for a break in price higher over 8.00 to get long.
By Greg Harmon of Dragonfly Capital