This Week's Strong Sectors & Stocks
12/18/2013 7:00 am EST
Focus: STOCKS
John Burke of Wall Street Sector Selector highlights the sectors and stocks that have turned in good performances this week.
The beaten-down solar sector was back in fighting form on Monday. Even the struggling, Guggenheim Solar ETF (TAN) jumped 1.48% to close at $34.28. Since November 26, TAN has not been able to climb above its 20-day moving average, which is currently $37.16. Despite Monday's big advance, TAN remains 9.88% below its 50-day moving average of $38.04.
On the other hand, solar stocks painted a brighter picture. Monday's star performer was Canadian Solar (CSIQ), with a 5.20% jump to 29.13. Although First Solar (FSLR) surged 1.69% to $54.70, it finished Monday's session just 73 cents below its 50-day moving average. SunPower (SPWR) also remains trapped below its 50-day moving average, after establishing a "triple top" on its chart during the period from October 21 through November 18. After climbing 0.79% to $27.94, FSLR finished Monday's session 9.84% below its 50-day moving average of $30.99.
Solar City (SCTY) has been making waves about a "big announcement" set for 1:00 EST on Tuesday. Solar City soared 1.23% on Monday, to close exactly at its 50-day moving average of $51.79. An important reason why Solar City climbed steadily from just below the breakeven level at 12:30 to a 1.23% gain at the close, was because of its chart.
The chart below depicts the performance of the Solar City (SCTY) during the past six months. (Chart courtesy of Stockcharts.com).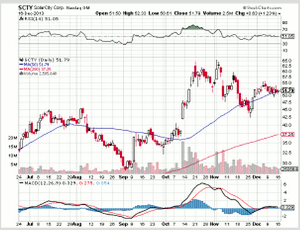 Click to Enlarge
Of particular interest is the flag, which has formed during the period since November 29. Many investors see this as a strong bullish signal. Although a bearish, head-and-shoulders pattern has appeared on the SCTY chart, the neckline was broken on December 5 & 6, making the flag appear more significant as a bullish signal. Solar City's relative strength index is at a healthy 51.05 and it has been holding in that range since November 29. The MACD is holding directly above the signal line and the zero line.
Speaking of Twitter (TWTR), the little blue bird lost some altitude on Monday, due to exhaustion. TWTR fell 4.05% to $56.61. Despite the decline, Twitter's relative strength index remained at 76.21. Most investors consider an RSI above 70 as an "overbought" signal.
The biotech sector had a good day. Its two standout stocks were Novavax and AcelRx Pharmaceuticals. Novavax (NVAX) skyrocketed 19.12% to $4.61 and AcelRx (ACRX) vaulted 17.93% to $9.67.
Three of the four major biotech ETFs headed higher on Monday. The Market Vectors Biotech ETF (BBH) was the only member of the group to finish in the red, dipping 0.07% to $84.72. The SPDR S&P Biotech Index ETF (XBI) advanced 0.23% to $123.38. The iShares Nasdaq Biotechnology Index ETF (IBB) rose 0.19% to $215.90. The First Trust NYSEARCA Biotechnology Index ETF (FBT) climbed 0.21% to end the day at $66.09.
The major ETFs, which responded to developments in the technology sector on Monday were:
Technology Select Sector SPDR ETF (XLK): +0.99%
Vanguard Information Technology Index ETF (VGT): +1.00%
iShares Dow Jones US Technology Sector Index ETF (IYW): +1.03%
Market Vectors Semiconductor ETF (SMH): +0.56%
iShares PHLX SOXX Semiconductor Sector ETF (NASDAQ:SOXX): +1.24%
Bottom line: Monday's trading session brought some strong performances from a number of solar stocks, while the Guggenheim Solar ETF (NYSEARCA:TAN) remained trapped below its 20-day moving average, despite a 1.48% jump.
By John Burke of Wall Street Sector Selector