The Dax: Achtung Baby!
01/31/2014 7:00 am EST
Focus: STOCKS
Greg Harmon of Dragonfly Capital favors the German market and believes that investors could stand to gain whether they trade futures or play the market using an ETF.
Those of you that follow me know I have liked and owned the German market since late October when it broke out of a multi year range. If you missed that and are looking for the right entry then you are in luck. After the DAX index hit 9800 earlier this month it has been pulling back. But with the touch at the 50-day simple moving average (SMA) yesterday it turned back higher on Tuesday along with the RSI turning up. This is an opportunity for a good reward to risk trade. If you trade using the futures, then a move below Monday's low is your stop.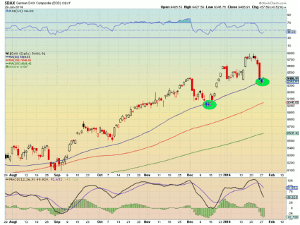 Click to Enlarge
If you are more like me and playing this market using the ETF (EWG), then your stop should be under the 30.29 low from Monday, shown on the chart below.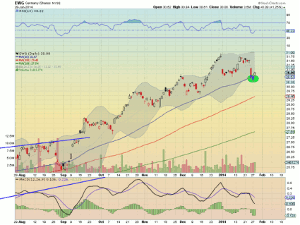 Click to Enlarge
How high can it go? On Christmas Eve I marked up this chart with the potential for the DAX to reach 11,000.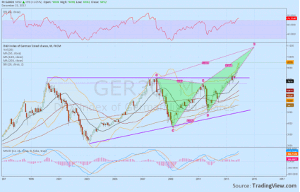 Click to Enlarge
That equates to about 36 in the EWG. and it is still valid.
By Greg Harmon of Dragonfly Capital