A Trifecta of Big Banks
05/06/2014 7:00 am EST
Focus: STOCKS
Chris Kimble of Kimble Charting Solutions notes that these big banks have all broken two-year support, which could be a predictor of future weakness in the broader market.
So goes the banks, so goes the broad market? Well...this is not a perfect analogy, yet more often than not, what banks do (strong or weak) does seem to have an important impact on the broad markets.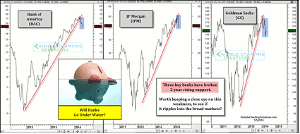 Click to Enlarge
The above three-pack reflects that Bank of America (BAC), JP Morgan (JPM), and Goldman Sachs (GS) have all broken below two-year rising support lines, while the broad markets have not. The power of the pattern would suggest one should keep a close eye on these key financial stocks to see if any further weakness takes place and if it starts to impact the S&P 500.
By Chris Kimble, Founder, Kimble Charting Solutions