Is Coal Heating Up Again?
05/09/2014 7:00 am EST
Focus: ETFs
Coal formed a base in mid-2012 and looked like it was about to break out in early 2013, but that ultimately failed, and now technician Greg Harmon of Dragonfly Capital investigates whether this time it might be different.
Coal has been a dirty rock with a bad reputation since you can remember. We were all primed from an early age that Santa brought coal to bad kids. So when the Coal ETF (KOL) started an historic move lower as in the chart below, it was easy to sit back and think, yeah that makes sense. A bit of behavioral finance mixed with your macro markets today. But that phase from the middle of May 2013 started to get bottom fishers interested. Could it reverse higher? Bottom fishers were interested during the basing in 2012 from May through September, as well, but that did not turn out so well. Would this be different?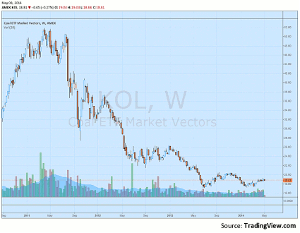 Click to Enlarge
Zone in on the short-term chart below now. I have highlighted the 200-day simple moving average (SMA) in blue. During the whole run lower, this has turned back any advance with only a brief period over it in early 2013. You can see that price is testing it again now. But not gaining any separation from it. The chart is promising having made a higher low and then a higher high, but still lacking any strength. The other indicators here are mixed. The RSI has moved into the bullish zone but it made a lower high and now looking at a lower low.
C2
The MACD is also moving lower. And at the bottom, there are no signs of accumulation, just a flat line at the bottom. This looks set up to fail and fall back again. I know that this means that many bottom fishers will be taking a chance at it moving higher. And it you were to do so in a controlled way against a stop around the 50/100 day SMA cross at 18.40, that is not a horrible play. But as a technician, I see this ETF in consolidation, not a trend higher, and therefore no need to be long it at this point. Should it make another higher high and turn that 200-day SMA high, gaining some separation, accompanied by a turn in the RSI and MACD upward and some accumulation, then it gets interesting. Until then everyone else can have at it. And I will watch from the sidelines. Whatever you are going to do, good luck.
By Greg Harmon of Dragonfly Capital