Jump Start July with This Bearish Watch List
07/02/2014 9:05 am EST
Focus: STOCKS
Traders shouldn't get their hopes up just yet, says Ryan Mallory of SharePlanner.com. With apologies, he shares a watch list of the few legitimate short setups that are out there at the moment.
The only stocks that people seem to be shorting these days are the inverse bearish stocks. In fact, the list below is probably one of the smallest ones that I've published in ages.
Nonetheless, you always want to be prepared, because today's bull market could easily become tomorrow's bearish trading environment. Not that it will, or that I even think it will, but you get what I mean. Always keep this list bookmarked and when the time comes to short some stocks (which obviously right now isn't one of those times), you'll be ready.
Here's the bearish trade setups: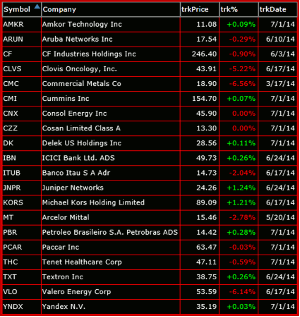 Click to Enlarge
By Ryan Mallory, Founder, SharePlanner.com