Mixed Signals and Oil Break
01/14/2015 7:00 am EST
Focus: STOCKS
Springheel Jack of SharePlanner.com takes a technical look at the mixed signals on the S&P daily, 60min, and 15min charts and the weekly chart for crude and shares his outlook for the next patterns that could form, but also, what may happen first.
The bulls had a very bad day Monday and on the daily chart there was a conviction break below the 50 DMA and the middle band, as well as breaks of lesser support at the 100 DMA and already broken rising wedge support. Generally speaking, after a break of this kind, I'd be looking for a touch of the daily lower band before another break back over the middle band and if we are to see that, then that is currently at 1975, just above the December low (and double top support) at 1972.
SPX daily chart: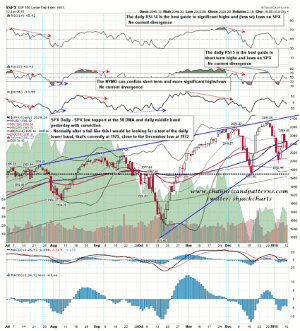 Click to Enlarge
Also lost was support at the 50 hour MA. That's now at 2036 and I'll be looking for some resistance there Tuesday morning. There may be a falling channel now from the all time high and I'll be keeping an eye on that.
SPX 60min chart: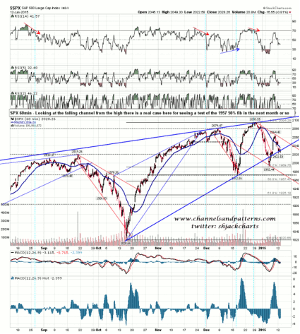 Click to Enlarge
On the 15min chart, by contrast, I'm showing the also not unimpressive short-term bull case here. The pattern from the last high is a nice looking falling megaphone and a short-term double bottom has formed that would target the 2049 area on a break over 2036. I have declining resistance from the all time highs now in the 2050-5 area and if that were to break up I'd be looking for a retest of the highs.
SPX 15min chart: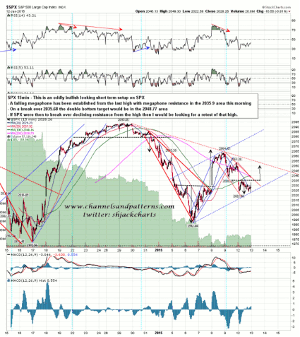 Click to Enlarge
Oil finally hit my main support trendline from the 1998 low Monday and broke it with some conviction. We may well see a bounce into the 46s Tuesday after Monday's epic 7% decline on CL, but I'd be looking lower after that.
WTIC weekly chart: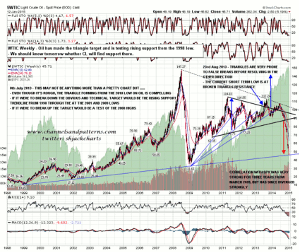 Click to Enlarge
The signals on SPX here should clarify in the first hour Tuesday. If we see SPX break back over 2040 then I'd be looking for 2050 and a possible retest of the highs. A hard fail in the 2035-40 area should deliver a move to 2000 and possibly considerably lower.
By Springheel Jack, Contributor, SharePlanner.com