Massive Head and Shoulders Pattern
03/09/2015 7:00 am EST
Focus: STOCKS

Ryan Mallory, of SharePlanner.com, shares his technical outlook for the S&P 500 based on last week's price action. Given the massive head and shoulders pattern he saw forming on the 30-minute chart dating back to mid-February, Ryan also offers a list of trades he closed out.
Technical Outlook (SPX):
Very small rally that saw the bulls unable to push price back into the price range between 2103 and 2117.
Massive—and I do mean massive—head and shoulders pattern forming on the 30-minute SPX chart dating back to mid-February.
Some support seems to be found on the daily chart of SPX at the 20-day moving average.
The moving average will be tested right out of the gate Friday morning with the weakness seen in futures following the employment report.
Often times, the best of news marks tops in an aging, upward trend.
VIX dropped 1.3% Thursday to close at 14.04.
T2108 showed further deterioration in the % of stocks trading above their 40-day moving average. Currently at 60%.
Volume on Thursday's rally was very weak.
If the market goes down Friday, look for possible support at 2088.
SPX needs to at least get back into the short-term trading range, which is above 2103, and ideally back above 2117.
Oil remains extremely volatile and becoming more so each and every day. Very difficult to trade, as are the oil stocks.
The market doesn't care about the economy nor earnings. That is not what is driving it.
The market only cares about what the Fed is doing to keep equities propped up.
My Trades:
Did not add any new positions Thursday.
Closed out AAPL Thursday for a 1.7% loss.
20% Long / 10% Short / 70% cash.
Remain long SPXU at 35.30.
Chart for SPX: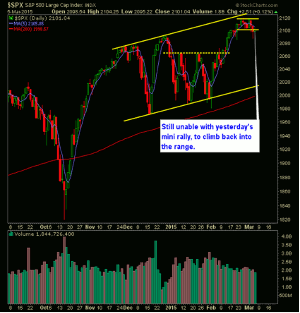 Click to Enlarge
By Ryan Mallory, Founder, SharePlanner.com