A Tale of Main Street vs. Wall Street: Amazon and Wal-Mart
07/30/2015 7:00 am EST
Focus: STOCKS
The staff at Kapitall.com technically analyzes the year-to-date performance of these two retail goliaths' stocks to illustrate the power of online sales and its ongoing impact on traditional brick-and-mortars, however, the staff suggests that a recent online expansion plan could also soon come into play.
E-commerce's meteoric growth is sending Amazon's shares on a tear while Wal-Mart shares are on the decline.
Excitement over the growth in Amazon.com's (AMZN) Amazon Web Services, or AWS, was so strong that the stock rallied to $580.57 intraday on July 24. The stock's price-multiples are beyond stratospheric and bullishness for the company is very strong.
Amazon reported a 20% increase in sales in its second-quarter earnings. Free cash flow was up around four-fold, at $4.37 billion; in the prior year, it was $1.04 billion. Net income was $92 million or $0.19 per share. Presently, Amazon's stock boasts a forward P/E of 183.29.
Amazon's stock performance compared to that of a traditional retailer like Wal-Mart (WMT) speaks volumes: online sales will keep getting bigger and will take market share from brick-and-mortar businesses.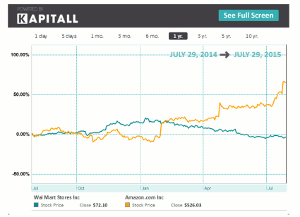 Click to Enlarge
After reaching a high of $90.97 in January, Wal-Mart shares have fallen steadily and are down 15.8% since the beginning of the year. The stock is trading around $72. Meanwhile, Amazon is up 69.9% over the same period.
Amazon's valuations appear stretched, but the demand for AWS will only grow. That, along with the popularity of online retail shopping, are the two reasons the stock is richly valued.
A contrarian investor may prefer Wal-Mart. With a forward P/E under 15, Wal-Mart is also expanding its online retailing segment. It recently opened a fulfillment center in Bethlehem, Pennsylvania. This puts Wal-Mart in direct competition with Amazon and will require significant investment for the firm. Given the low valuation, it is not expensive for investors to consider Wal-Mart.
If Wal-Mart's online channel is successful, then that could put an end to the downtrend in its share price.
Click on the interactive chart to view data over time.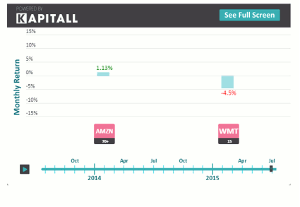 Click to Enlarge
1. Amazon.com, Inc. (AMZN): Operates as an online retailer in North America and internationally. Market cap at $246.54B, most recent closing price at $526.03.
2. Wal-Mart Stores, Inc. (WMT): Operates retail stores in various formats worldwide. Market cap at $233.52B, most recent closing price at $72.10.
(Monthly return data sourced from Zacks Investment Research. All other data sourced from FINVIZ.)
By the Staff of Kapitall.com