Is It Wise for Nokia to Try This Smartphone Thing Again?
08/26/2015 9:09 am EST
Focus: STOCKS
Although this multinational communications and information technology company bowed out of the smartphone market years ago, Chris Lau, of Kapitall.com, takes a new technical look at the stock to determine if its recent decision to reenter the market seems like its a good idea.
Years ago, Nokia bowed out of the smartphone market. Today the company is preparing to give it another try.
Nokia (NOK) is apparently interested in re-entering the mobile phone market. If its recent hiring activities—including dozens of postings for Android engineers on LinkedIn—are an indication, Nokia consumer smartphones could soon become another source of revenue for the company.
According to CEO Rajeev Suri, Nokia is not permitted to enter the mobile phone market until late 2016 due to a non-compete with Microsoft (MSFT) after selling its handset division to the latter. If the company does return, the cutthroat competition will likely get worse.
Chinese phone maker Xiaomi is growing rapidly. Android phone manufacturer Samsung (OP:SSNLF) is on a downtrend: profits have fallen for five consecutive quarters. The company reported on July 30 that second quarter profits fell 8% from last year. Taiwan-based HTC—another Android phone maker—has struggled to carve out market share from Samsung, Apple (AAPL) and Chinese firms. The company's stock plummeted on August 10, bringing its market capitalization to $1.5 billion, less than the company's cash holdings.
Nokia is already busy with its Alcatel-Lucent (ALU) acquisition. It is on the hook for $445 million if the deal falls through. When the deal closes, Nokia's first priority will be the network segment. Chinese firms Huawei and ZTE are both hungry and gaining market share for network customers. Delving back to the mobile market will distract Nokia from focusing on this market.
Still, Nokia found success in selling rights to its name so that it would benefit from sales of the N1 Android tablet, which is presently only available in China. Interest in the tablet is so strong that Nokia will offer the tablet in the UK and Ireland.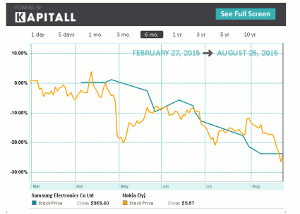 Click to Enlarge
If Nokia partners with other companies and licenses its brand, it would minimize the distraction for management. The company's primary focus should stay on networks. The consumer market is already very competitive for tablets and smartphones. Nokia should consider finding revenue growth in this market a secondary objective.
Disclosure: Author owns shares of ALU.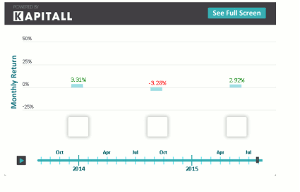 Click to Enlarge
1. Alcatel-Lucent (ALU): Provides products, solutions, and transformation services that enable service providers, enterprises, governments, and strategic industries to deliver voice, data, and video communication services to end-users worldwide. Market cap at $8.98B, most recent closing price at $3.27.
2. Apple, Inc. (AAPL): Designs, manufactures, and markets personal computers, mobile communication and media devices, and portable digital music players, as well as sells related software, services, peripherals, networking solutions, and third-party digital content and applications worldwide. Market cap at $616.52B, most recent closing price at $105.76.
3. Nokia Corporation (NOK): Provides Internet and digital mapping and navigation services worldwide. Market cap at $21.78B, most recent closing price at $6.14.
(Monthly return data sourced from Zacks Investment Research. All other data sourced from FINVIZ.)
By Chris Lau of Kapitall.com