Can Gold Retest the Highs?
05/23/2011 9:40 am EST
Focus: COMMODITIES
Conditions are shaping up that could spur a renewed rally in precious metals—particularly gold—and traders should now be alert for potential buying opportunities.
Gold's strong close last Friday (May 20) was impressive, and volume for the SPDR Gold Trust (GLD) was the highest we've seen in almost two weeks. Weekend developments in the global markets may cause some near-term confusion in the gold market, but the short-term technical outlook has definitely improved.
It is likely to be a rough opening on Monday for US stocks, as futures were down sharply in early trading in reaction to continued euro debt problems. The downgrade late Friday for Greece's debt was followed by a lowering of the outlook for Italy's debt. Spain is also on the radar, and the nation's election results may hamper austerity plans.
The stock selling started in Asia, with Shanghai down almost 3%, and then spread to Europe, as the euro dropped below the 1.40 level.
The US dollar's strength has pushed crude oil lower, but gold is so far holding up well in early trading. If gold does pull back in early-Monday trading in reaction to a stronger dollar, it should represent a buying opportunity.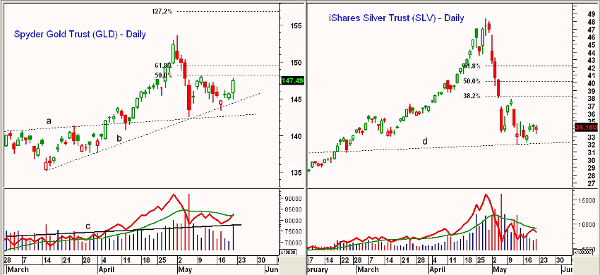 Click to Enlarge
Chart Analysis: The daily chart of the SPDR Gold Trust (GLD) shows Friday's higher opening and the strong close, as the converging support (lines a and b) appears to have held.
For GLD, the 50% retracement resistance, as well as the latest swing high, is at $148.19. Once above this level, the 61.8% retracement resistance stands at $149.55
On a close above $150, a test of the April highs at $153.61 becomes likely. The 127.2% retracement resistance target is at $156.90
There is minor support for GLD initially at $146.60, with stronger support in the $145.50-$146.00 area
The daily chart has more important support in the $143.40 area
The daily on-balance volume (OBV) closed Friday above its weighted moving average (WMA) after holding good support at line c. The weekly OBV (not shown) looks very strong, having closed Friday very near the April highs
The technical outlook for the iShares Silver Trust (SLV) is quite different, as it actually closed a bit lower on Friday. SLV has minor gap support now at $33.15-$33.38.
There is daily chart support at $31.80-$32 (line d) with the 50% retracement at $31.30
The late-2010 and early-2011 highs for SLV were in the $30 area, which now represents stronger support
The volume over the past week has been low and the daily OBV is still below its weighted moving average (WMA). The weekly volume (not shown) has dropped further below its WMA, but did make new highs with prices
There is a band of chart resistance and the 38.2% retracement resistance in the $36.60-$38.20 area. The more important 50% resistance is at $40.26
What It Means: Even though the dollar seems ready to rally further behind euro zone debt concerns, that does not rule out renewed strength in the metals, especially gold.
Clearly, the recent carnage in the metals sharply reduced the bullish sentiment. A rally in gold back to—and possibly above—the recent highs would catch many by surprise. Though it is hard to imagine that silver will not rally if gold moves higher, the silver market is still going to be very volatile and difficult to trade.
How to Profit: Traders could go 50% long GLD at $146.62 and 50% long at $145.88 with a stop at $142.14 (risk of approx. 2.8%). On a move above $149.10, raise the stop to $144.76 and sell half the position at $153.12.
I have no recommendation for SLV at this time, but a daily close above $35.10 would be a strong sign that a daily bottom formation had been completed.