The Third Quarter's Top ETFs
Focus: ETFs
A examination of Barron's recent Mutual Fund Report highlights a few little-known ETFs that MoneyShow's Tom Aspray thinks should be monitored closely in the coming weeks.
Three days of solid selling has taken the S&P 500 back to the late September low of 1,430.53. The next major zone of support is at 1,422 to 1,426, which corresponds to the late August as well as the early April highs.
The Spyder Trust (SPY) is now 2.7% below its September highs, which is typical of a pullback in an uptrend. SPY was up 5.8% in the third quarter.
The Lipper Mutual Fund Quarterly from Barron's October 8 issue reveals that the 7,857 US diversified stock funds were up 5.29%. In the US, large-cap growth did the best (up 6.28%), while world markets did well as world equity funds gained 6.63%.
Anyone with a 401(k) who invests in mutual funds should take a look at how their funds did, as it could help them determine whether they should be moving in or out of any of them. Relative performance analysis is a tool that I use to help determine which funds I am buying or selling.
I always find the Leaders & Laggards table quite interesting, as it sometimes contains ETFs and funds that I do not normally follow. Last quarter, one of the top performing non-leveraged ETF was Global X Silver Miners (SIL), which was up 33.5%.
A technical examination of this ETF as well as three other top performers can give traders and investors good ideas for future investments, and there are some key support levels you should be watching.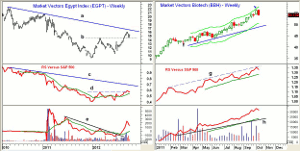 Click to Enlarge
Chart Analysis: The Market Vectors Egypt Index (EGPT) is a $57.5 million ETF with an average volume of 72,000 and a 1.8% yield.
!--start-->
---