Can Biotech Earnings Hold Up?
07/30/2013 10:00 am EST
Focus: STOCKS
This sub-sector has been outperforming for most of this year, and MoneyShow's Tom Aspray examines the charts of three biotech stocks reporting earnings this week to see what course of action to take.
The market opened lower Monday in reaction to the weakness in Japan with seven of ten sectors closing the day lower. The financial, energy, and consumer discretionary sectors were the weakest.
The market internals were negative and the majority of A/D lines have dropped below their WMAs, which is a sign of weakness. This is consistent with a loss of upside momentum as we head into a full week of economic data. Later today we get the S&P Case-Shiller Housing Price Index and Consumer Confidence.
One of the top industry groups of the past year has been the S&P Biotechnology Index (DJUSBT), which rose over 83% since the June 2012 lows. During the same period, the Spyder Trust (SPY) has gained over 32%.
The relative performance analysis on the healthcare sector, as well as biotechnology, has indicated they have both been leading the market higher since May of 2012. Some of the market-leading biotech stocks report earnings this week but what, if anything, should holders of these stocks do before the earnings come out?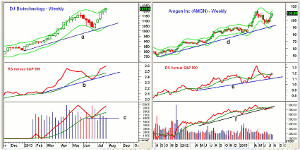 Click to Enlarge
Chart Analysis: For the past three weeks, the DJ Biotechnology Index (DJUSBT) has been testing the weekly starc+ band and is currently above its monthly starc+ band.
Amgen Inc. (AMGN) is a giant $82 billion dollar biotech company that has a current yield of 1.70%. It reports earning after the close on July 30.
NEXT PAGE: 2 High-Risk Biotech Stocks
|pagebreak|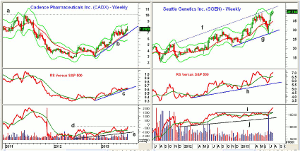 Click to Enlarge
Cadence Pharmaceuticals Inc. (CADX) is a small-cap ($646 million) biotechnology company that reports earnings after the close on July 31.
Seattle Genetics Inc. (SGEN) is a $4.80 billion biotech company that is scheduled to report its earnings after the close on July 31.
What it Means: The biotechnology sector as well as Amgen Inc. (AMGN) and Seattle Genetics Inc. (SGEN) are all near their weekly starc+ bands suggesting they are in a high-risk buy area. If you have good profits in either or both of these stocks and have not taken any profits this year, now seems like a good time to do so. As I mentioned in 4 Ways to Summer-Proof Your Portfolio, taking profits and raising cash during the summer months can put you in a better position when we get to the seasonally positive fall period.
I will also be looking for a pullback in iShares Nasdaq Biotechnology Index (IBB) to buy.
Cadence Pharmaceuticals Inc. (CADX) does look attractive on a pullback as risk control is even more important in lower priced stocks.
How to Profit: For Cadence Pharmaceuticals Inc. (CADX), go 50% long at $7.14 and 50% long at $6.92, with a stop at $6.65. (risk of approx. 5.4%).