Use Quarterly Pivots to Stay on Track
09/26/2013 10:00 am EST
Focus: ETFs
With just three more days left in the third quarter, Moneyshow's Tom Aspray demonstrates how the quarterly pivots kept you on the right side of the market in the third quarter and what levels you should be watching to stay on track for the rest of the year.
Stocks had another feeble rally attempt on Wednesday but closed weak, and while Durable Goods were better than expected, prior months were revised downward. New Home sales were better than expected, but the focus seemed to be on the budget crisis in Washington.
On today's calendar, in addition to jobless claims, we get the final reading on second quarter GDP, Pending Home Sales. Technically, the major averages, like the Spyder Trust (SPY) and PowerShares QQQ Trust (QQQ), need to close above Tuesday's high to reverse the downside momentum. The futures are a bit higher in early trading.
The relationship of a market to its quarterly pivot line (The Most Powerful Pivot Level) can be used to determine a market's dominant trend. As we end the third quarter, the pivot levels should be watched closely to see how these four key markets are likely to act in the last quarter of the year.

Click to Enlarge
Chart Analysis: The weekly chart of the Spyder Trust (SPY) shows a wide range, but a small difference, between the open and close last week, suggesting an indecisive market.
The PowerShares QQQ Trust (QQQ) has been much stronger than the SPY in the third quarter, as it is up 10.2% versus just 5.4% for the SPY.
NEXT PAGE: Two Key Markets to Watch
|pagebreak|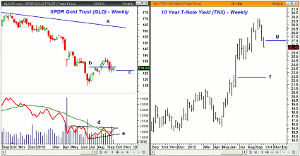 Click to Enlarge
The SPDR Gold Trust (GLD) is currently down 25.3% for the year, as it opened 2013 trading below its first quarter pivot at $165.21.
The bond market has been the focus of many investors this year and the yield on the 10-Year T-Note (TNX) opened the year above its quarterly pivot at 1.752%, (17.52 on the chart).
What it Means: In August, I reviewed the quarterly pivot analysis on many of the key ETFs, as their rallies appeared to have stalled at key quarterly levels.
It will be important to see how these ETFs open the fourth quarter, in relation to their fourth quarter pivots, and I will publish a full list next week.
How to Profit: No new recommendation.