What Are the Rich Buying?
05/06/2014 10:45 am EST
Focus: STOCKS
With the strong uptick in consumer sentiment from the University of Michigan's April data, MoneyShow's Tom Aspray takes a technical look at several luxury retailers to see if the effect is trickling up.
It was another positive Monday for the stock market as the S&P 500 futures at 10 AM ET were down almost 14 points from Friday's late trading but closed up 5.5 points for the day. The previous Monday, the futures were down 16 points intra-day but again closed positive for the day.
This suggests that stocks are being accumulated at lower levels even though weak outlook for earnings from JPMorgan & Chase (JPM) and disappointing numbers from Pfizer Inc. (PFE) dragged both stocks down close to 2.5%.
Still, it is an earnings-driven market for US investors while the Treasury market seems to be flooded with overseas buying as the yield on the 10-year T-note dropped to 2.57% on Friday in reaction to the monthly jobs report. Yesterday's better-than-expected ISM Non-Manufacturing did help yields to rise a bit from the recent lows.
The technical outlook for the PowerShares QQQ Trust (QQQ) has improved, suggesting the unorthodox low from April 15 may have actually marked the end of its correction.
One of last week's casualties was Coach, Inc. (COH) as it dropped 14% from last Monday's close in reaction to its negative earnings revisions. What about the other companies that depend on the affluent buyers?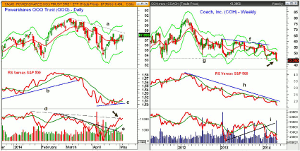 Click to Enlarge
Chart Analysis: The daily chart of the PowerShares QQQ Trust (QQQ) shows Monday's strong close but it is still below the downtrend, line a, and the April 24 high of $88.21.
The weekly chart of Coach, Inc. (COH) shows that last week's drop violated the long-term support, line g, which goes back to 2011.
NEXT PAGE: 2 More Luxury Retailers to Watch
|pagebreak|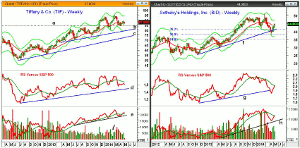 Click to Enlarge
Tiffany & Co. (TIF) reported a fourth-quarter loss because of an arbitration ruling, which if excluded, would have meant a net earnings increase of 15% according to Motley Fool.
Sotheby's Holdings, Inc. (BID) also depends on the wealthy as it just came to terms on Monday with major shareholder Dan Loeb. The stock was up 3.25% in Monday's session on almost three times the average volume, closing at its daily starc+ band.
What It Means: It is difficult to draw any strong conclusion about the buying preferences of the very wealthy though other data suggests they are doing quite well. The charts of two other luxury retailers Michael Kors (KORS) and Kate Spade & Co. (KATE) look quite similar to that of Sotheby's Holdings, Inc. (BID).
I have been looking for increased consumer buying to give the economy a boost in the 2nd quarter and would look to buy the Select Sector SPDR Consumer Discretionary (XLY), as well as Sotheby's Holdings, Inc. (BID).
As for the PowerShares QQQ Trust (QQQ), an old friend and former rocket scientist John Ehlers, has added new features to his StockSpotter analysis. I told him I would be discussing the QQQ today and he provided his two-week projection for QQQ.
How to Profit: For Sotheby's Holdings, Inc. (BID), go 50% long at $42.14 and 50% at $41.76, with a stop at $39.83 (risk of approx 5.1%).
For the Select Sector SPDR Consumer Discretionary (XLY), go 50% long at $64.08 and 50% at $63.76, with a stop at $61.67 (risk of approx 3.5%).
Portfolio Update: Should be 50% long PowerShares QQQ Trust (QQQ) at $86.88 or better as the second buy at $84.72 was just missed. Use a stop at $82.37.