Momentum Meltdown, Bear Trap or…
07/09/2014 11:00 am EST
Focus: STOCKS
Investors and traders wonder if Tuesday's momentum stock damage indicates the beginning of another punishing decline or if it's a bear trap, so MoneyShow's Tom Aspray takes a technical look at some key markets to clarify the current outlook.
It was a rough start for the stock market on Tuesday, especially for the widely watched, so-called "momentum stocks." Another market warning, this time from an institutional analyst, helped to sour investor sentiment.
The negative comments from a hedge fund manager in April came just a few days before the market bottomed. The S&P 500 and Dow Industrials were down less than 0.75% Tuesday while the Nasdaq Composite lost 1.35%. The market internals at 3-2 negative were not that bad with the ARMS Index closing at 1.58 which is moderately oversold. In reaction to the comments in April, it hit a high of 2.37.
The damage was more severe in the momentum stocks as the Global X Social Media ETF (SOCL) lost 4.16% led by a 7% loss for Twitter, Inc. (TWTR) and a 3.7% drop in Facebook, Inc. (FB).
The Spyder Trust (SPY) and NYSE Composite are now testing their 20-day EMAs which is characteristic of normal market correction. The market is looking to this afternoon's release of the FOMC for further hints of the Fed's policy.
Investors and traders are wondering whether this is the start of another punishing decline for the social media stocks that will precede a deeper market correction or is it a bear trap that is setting the stage for further new all time highs. A technical look at some of the key markets will help clarify the current outlook.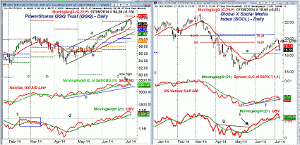 Click to Enlarge
Chart Analysis: The PowerShares QQQ Trust (QQQ) tested the upper boundary of its trading channel (line a) for three days before Tuesday's drop.
The Global X Social Media Index (SOCL) has 27 holdings with an expense ratio of 0.65% and an average volume of 214K shares.
NEXT PAGE: 2 More Stocks to Watch
|pagebreak|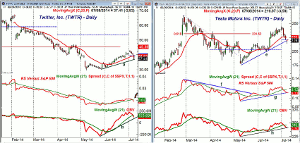 Click to Enlarge
Twitter, Inc. (TWTR) has had a rough year as it is down 41.2% YTD as it peaked on December 26 at $74.73.
Tesla Motors, Inc. (TSLA) has had an impressive rally from the May low of $177.22 but is still below the February 26 high of $265.
What it Means: In April, I made the case why investors should avoid momentum stocks as the risk control is very difficult. The technical outlook for Global X Social Media Index (SOCL) and Twitter, Inc. (TWTR) indicates they are still vulnerable to a further decline. The outlook for Tesla Motors, Inc. (TSLA) is more positive and I would look for the $211-$214 area to hold.
As for the overall market, there are no convincing signs yet the market has formed or is forming a significant top. Just like a super tanker, it takes time to turn the market's trend. The strength of next rally will tell more and further new highs cannot be ruled out.

The next couple of weeks will be important as the market has a seasonal tendency for weakness at the end of July (see chart).  Stronger warning signs would be generated if the NYSE Advance/Decline drops below both of the June lows and the OBV starts to develop a new downtrend.
How to Profit: No new recommendation.