The Nasdaq 100's Most Overbought
03/03/2015 10:00 am EST
Focus: STOCKS
Market leaders often appear at the top of the monthly starc band overbought list, says MoneyShow's Tom Aspray, and he takes a look at the Nasdaq 100 stocks for new buy candidates.
Stocks have started the new month off on a positive note with impressive gains across the board that reversed the loss of momentum from last Friday's listless trading. Of course, the close in the Nasdag Composite above 5000 was the headline news as it reached its highest level in 15 years.
The Powershares QQQ Trust (QQQ) was up 0.98%, the iShares Russell 2000 (IWM) gained 0.89%. Both outperformed the Spyder Trust (SPY), which was up just 0.63%. The real star performer was the Market Vector Semiconductor ETF (SMH) as it gained 2.63%. This industry group was the focus of January's Will These Stocks Ignite the Tech Sector.
In one of my several monthly scans, I noted that four of the Nasdaq 100 stocks closed the month above their starc+ bands. These bands, developed by Manning Stoller, are designed to contain over 92% of the price activity. Therefore, when a stock or ETF is near the upper bands (starc+) it is a higher risk buy as prices are more likely to consolidate or revert to the lower bands (starc-).



Click to Enlarge
As I have also pointed out in the past, those stocks that are at or above their monthly starc+ bands typically are those which are outperforming the S&P 500. This makes them attractive candidates for new buying if a reasonable risk entry strategy can be developed.
In the current analysis, Avago Technologies (AVGO) tops the list as it closed February 5.3% above its monthly starc+ band. It first closed above its monthly starc+ band in December 2013. It gained 92.5% in 2014 and is already up 28.2% in 2015.
Several of these most overbought stocks have been featured in columns over the past five months. One of the recent most overbought stocks had enough of a pullback to reach the recommended buy level. Are any of this month's most overbought attractive for new purchase?

Click to Enlarge
Chart Analysis: The monthly chart of the PowerShares QQQ Trust (QQQ) shows the strong close above the prior three month highs, which clearly reinforces the positive long-term trend.
Monster Beverage Corp. (MNST) was discussed in early January as the daily studies had just turned positive and the longer-term analysis was already bullish. The stock skyrocketed last week as it was up over 13% on Friday.
Next: Two More Nasdaq 100 Stocks to Watch
|pagebreak|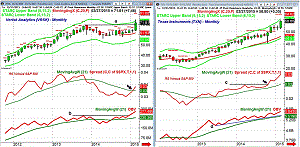 Click to Enlarge
Verisk Analytics, Inc. (VRSK) is an $11.36 billion dollar business services company that was down -2.54% in 2014 but is up 12.21% in 2015.
Texas Instruments Inc. (TXN) is part of the strong semiconductor industry group that I have liked for some time.
What it Means: The power of the monthly charts is evident in the performance of the PowerShares QQQ Trust (QQQ) as well as many of the top performing stocks from 2014. That is why a combination of the monthly with the weekly studies was the focus of A Six-Point Checklist for a Profitable 2015.
The recommending buying level for Monster Beverage Corp. (MNST) was just missed, while the January 26 recommended buy level for Texas Instruments Inc. (TXN) was hit. I would recommend buying Verisk Analytics, Inc. (VRSK) on a pullback.
How to Profit: For Verisk Analytics, Inc. (VRSK) would go 50% long at $68.06 and 50% long at $67.88 with a stop at $65.13 (risk of approx. 4.2%).
Portfolio Update: For Texas Instruments Inc. (TXN) should be 50% long at $54.28 and 50% long at $53.66. Raise the stop now to $53.86. Sell 1/2 at $62.84 or better.