3 Stocks Form Bullish Reversals
03/12/2015 9:45 am EST
Focus: STOCKS
Signs of increasing bearish sentiment are just what the market needs, says MoneyShow's Tom Aspray, and he has found three stocks that had bullish reversals in Wednesday's session.
Stocks closed mixed Wednesday as—while the Dow Transports were up 1.12%—the S&P 500 closed down 0.19%. Other bright spots were the small- and mid-cap stocks that were both up over 0.5% on the day. The outperformance of the Transports could be an early sign that the correction is close to over.
The market internals were stronger than prices as the A/D ratios were clearly positive. The decline since last Friday's job report has clearly increased the bearish sentiment as—according to AAII—the bullish % has dropped to 31.60%, which is down 47.02% from just four weeks ago. This is the lowest reading since the market low on August 7, 2014.
An increase in the negative sentiment, as I pointed out last week (Calling All Bears), was needed to create the environment for a stronger stock market rally. A higher close today should set the stage for a further rebound but it will take several consecutive strong up days to indicate that the market's correction is over.
As the market averages have declined, not all stocks have been weak on Wednesday. I focused on two leaders from IBD's Top 50 list. In looking at yesterday's action, three stocks stood out as they formed bullish reversals and look ready to move higher, so traders should consider new long positions.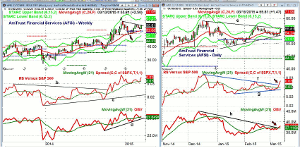 Click to Enlarge
Chart Analysis: AmTrust Financial Services (AFSI) is a $4.6 billion provider of specialty property and casualty insurance. It has a current yield of 1.52%.
The daily chart of AmTrust Financial Services (AFSI) shows that the lower boundary of the flag formation was tested late last week.
Next: Two More Stocks to Watch
|pagebreak|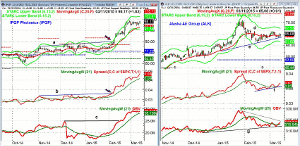 Click to Enlarge
IPG Photonics (IPGP) is a $5.2 billion dollar developer and manufacturer of high performance lasers used in material processing.
Last week I focused on the three top airline picks of a momentum mutual fund but the recent action of Alaska Air Group (ALK) is positive.
What it Means: In last Friday's Week Ahead column, I shared my view that the current correction will ultimately be a buying opportunity. Other than looking to some of overseas ETFs, it does not warrant any change in your portfolio strategy at this time.
In a strong market, the technical setups for these three stocks would have a high level of confidence. In the current corrective market, new longs have a bit more risk as it seems too high in IPG Photonics (IPGP). Traders should look to buy with tight stops.
How to Profit: For AmTrust Financial Services (AFSI) go 50% long at $55.37 and 50% long at $54.28 with a stop at $52.88 (risk of approx. 3.5%). On a move above $59, raise the stop to $53.90.
For Alaska Air Group (ALK) go 50% long at $64.96 or better and 50% long at $64.29 with a stop at $61.88 (risk of approx. 4.2%). On a close above $67, raise the stop to $62.88.