Another Tool That Can Help FX Traders
04/05/2013 9:00 am EST
Focus: FOREX
A forex market sentiment analysis based approach to trading can be used in combination with technical trading or other strategies, writes Nick Simpson of Forex-FX-4X.com, which can help a trader to go with the flow rather than fight the overriding sentiment.
Technical analysis has become increasingly popular for aspiring traders. Ask any relatively new trader what a Fibonacci extension is and there is a pretty good chance you will get a reasonably accurate answer. However, one area that does not always receive the attention it deserves is market sentiment. Markets move continuously between being fundamentally driven to technically biased and/or focused on sentiment. An awareness of what is moving the market is especially important when traders are trading on an intra-day basis as sentiment can easily change—with one statement from a central bank policy maker and turn the market on a dime. Traders must factor in the reality that the market is just the aggregate of all the opinions and views of all participants in the respective markets. In other words, exchange rates are determined by traders' expectations.
Ultimately though, the market does not move based on news releases, fundamentals and jawboning from central bankers; the market actually moves based on the underlying sentiment—people's interpretation of events. Trading the markets is an emotionally driven pursuit for most participants and fear and greed drives the price of a given instrument as traders seek get a piece of the action or run for cover as price goes against them.
A forex market sentiment analysis based approach to trading can be used in combination with other strategies including technical trading. This can help traders have a better chance of going with the flow rather than fighting the overriding sentiment. I think it was Warren Buffet who said "If past history was all there was to the game, the richest people would be librarians." With this in mind, it may be reasonable to assume that a combination of news-based market sentiment (the here and now) and technicals (historical data) as being a requirement when trading. There are many ways to gain an insight into the sentiment and these include the following:
Commitments of Traders (COT) Report. The COT report can help with longer-term sentiment analysis as this data is lagging (reports on a Friday for the prior Tuesdays positioning). This gives a valuable overview of the weekly positioning data, derived from large speculator reporting.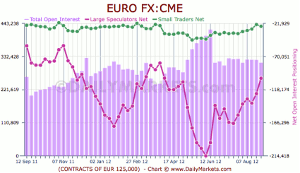 Source:Dailymarkets
Click to Enlarge
Market Sentiment Indicators Including the FXCM SSI. The SSI is sometimes used for contrarian signals in an attempt to fade the retail traders out there. The flip of the SSI ratio is also an interesting signal to watch for. Other brokers provide similar data, but FXCM is one of the biggest and therefore worthy of note.


Click to Enlarge
Risk Reversal Rates. These can sometimes help identify extreme bearish or bullish scenarios, which can lead to short- or long-term market tops and bottoms. Options market risk reversals are often used to gauge market sentiment. The example chart that follows below shows how the EUR/USD currency pair printed a string of key swing highs and lows after the FX Options 90-day risk reversal reading was at 100% and 0%, respectively.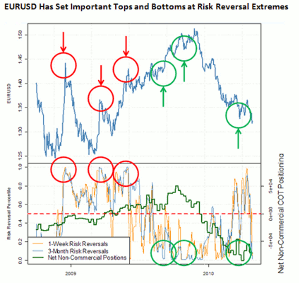 Source:DailyFX
Click to Enlarge
Higher Timeframe Price Action. If the weekly chart has just given a major reversal/continuation signal, it can be used to provide a trading bias and the price action is, after all, only a reflection of the overriding market sentiment when all is said and done.
Mainstream News Including CNBC, Bloomberg, and Reuters. This will cut straight to the chase and give you focus on the big market moving events. Is the market focusing on jobs data, European debt, what have they priced in already, what if it isn't delivered? This is not to say that you should trade based on this news, but a bias can be established by focusing on the financial market headlines. Your technical analysis skills can then potentially be used to fine tune entries.
Specialist Forex News Services. Many forex brokers provide free news and research services. This gives access to regular updates from the likes of Thompson Reuters and similar services. It certainly helps to have our finger on the market pulse when trading—especially on the intra-day basis.
Please note that the charts above have been added for informational purposes only and are not intended to give an indication of the current market sentiment.
Related search terms include: Sentiment indicators, stock market sentiment, investor sentiment, sentiment in the forex market, investors sentiment, market sentiment definition.
By Nick Simpson of Forex-FX-4X.com