A Primer on Trading Forex Breakouts
08/02/2013 9:00 am EST
Focus: FOREX
Trend traders enjoy the luxury of first identifying market direction prior to executing a trading strategy, and once found, traders can employ a breakout strategy for entries, writes Walker England of DailyFX.com.
As previously discussed, there are many advantages to identifying and trading a strong trend. Below we can see a prime example of such a trending market. Currently the EUR/USD has advanced as much as 542 pips since its July 2013 low at 1.2754. When looking at the chart below, it is important to notice the series of higher highs printed on the graph. With the EUR/USD trending upwards, this makes the currency pair a prime candidate for future buying opportunities.
Today we will continue our discussion on trend trading basics by identifying potential breakout trading opportunities with the trend.
EUR/USD 4-Hour Uptrend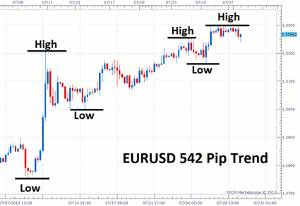 (Created using FXCM's Marketscope 2.0 charts)
Click to Enlarge
Trading Breakouts
After finding the current high in an uptrend, trading a breakout becomes a very straightforward process. Going back to our example on the EUR/USD, the current high resides at 1.3296. This point is currently acting as an area of resistance for the pair. Resistance is a point on a chart that acts like a price ceiling. Breakout traders will wait for price to break through resistance, and create a new high before entering into the market. Traders will look to buy a breakout in an uptrend, with the expectation of price continuing to rise and create a higher high in the market.
Entry orders are an effective way to prepare for a market breakout. An entry order can be set through the FXCM trading station and allows you to set an order at a preset price. In the event that the market trades through that price, your order will be executed and your trade triggered into the market. This method of trading is very popular with traders, especially if you don't have the ability to constantly monitor charts. Regardless if you are in front of your charts or not, your trade is scheduled to execute as soon as s breakout occurs!
EUR/USD Breakout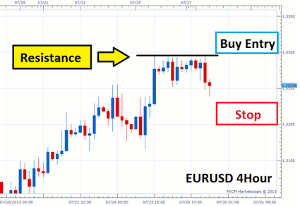 (Created using FXCM's Marketscope 2.0 charts)
Click to Enlarge
Stops and Limits
After finding a breakout point to place an entry order, traders should then consider to manage their risk. There are many ways to do this when trading trends, but the easiest way to place a stop order is to again go to your charts and the aforementioned price action highs and lows. In an uptrend like the EUR/USD, traders can always turn towards the previous swing low as a line of support. Stop values can be placed under this value to exit positions in the event of the market turning.
Once a stop is set, traders can then manage their profit targets by using a positive risk: reward ratio of their choosing.
By Walker England, Trading Instructor, DailyFX.com