Is the Yen About to Explode?
08/13/2013 9:00 am EST
Focus: CURRENCIES
The Japanese yen has been a big driver of the global markets recently, writes Greg Harmon of Dragonfly Capital, but what does it have in store for the next few weeks?
One view is that it is ready to explode higher. The chart below shows the yen (using the Currency Shares Japanese Yen Trust, FXY, as a proxy) over the last three months. It is in the midst of a deep crab harmonic with a potential reversal zone (PRZ) at 112.68. That is a big move from the current 101.15 area. But it has support for a continued move higher from the relative strength index (RSI) that is bullish and rising and a moving average convergence divergence indicator (MACD) that is rising.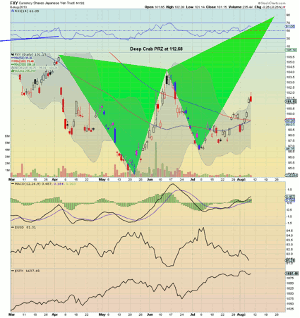 Click to Enlarge
This would lead to a negative move in the US Dollar Index (UUP) if the correlation over this timeframe continues to hold. But that has been good news for the S&P 500 (SPX, SPY) lately, but with that shift only occurring over the last month. Will this continue to be good news for US markets? A lot to look for. But worth watching the relationship between all three.
By Greg Harmon of Dragonfly Capital