How I'm Planning to Profit from Inflation
02/07/2011 1:33 pm EST
Focus: STRATEGIES
While Ben Bernanke says we are not seeing any inflation, I think most traders know that is just political talk. Other countries like Egypt see food prices surging, and it's not just because of the protests. Over the past couple years, everyone has been talking about how inflation will be seen here in the United States, and it has been one of the main driving forces for higher precious metals prices.
As we all know, the market does the opposite of what the majority of investors are doing. And while everyone has been buying metals in anticipation of inflation, I find it amusing how inflation for the first time is clearly presented on TV (Egypt issues) and we see gold and silver trading lower than they were a month ago. Seems like "Buy the rumor, sell the news" is playing out. But the question everyone is starting to ask is how far will the metals correct?
Personally, I do not think they will drop much further, but I do think it's going to take six to eight months before we see new highs in both gold and silver. They have had a nice run, but it now looks as though they may cool off for a while. We could see some strength in the dollar for a little while, and that should keep some pressure on metals, even though inflation is clearly starting to show up around the world. Then the metals should start to climb the wall of worry again.
Below are my updated charts on gold, silver, and the gold miners index. Not much has really changed from last week other than that both gold and gold miners are getting deeper into a resistance level, forming a bear flag pattern.
SPDR Gold Shares (GLD) - Daily Chart
Gold ETF GLD is working its way up into a key resistance level and forming a possible bear flag.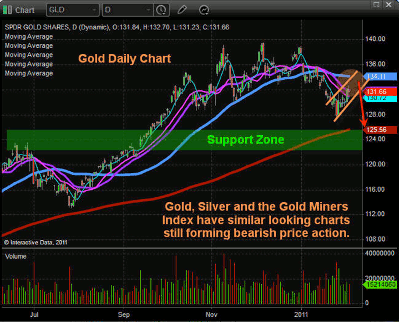 Click to Enlarge
Silver Futures Daily Chart
Silver has been testing its key resistance level for a few days. It is normal to see silver push the limits and make larger moves simply because it is thinly traded and much more volatile. It looks ripe for a pullback at this area.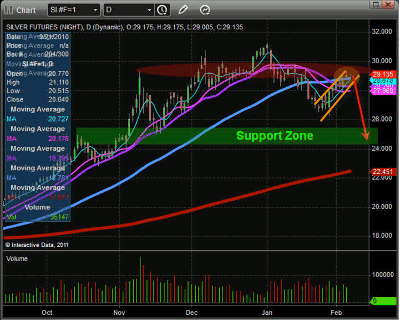 Click to Enlarge
Market Vectors Gold Miners ETF (GDX) - Daily Chart
Gold stocks have put in a nice bounce from the strong selling in January. As it pushes up into a resistance level, it's starting to look more attractive as a short play also. I still think the market has a couple more days to upward chop before metals possibly see another thrust down, but that also depends on what the dollar does this week. The dollar does look ready to rally this coming week, and that will put pressure on metals.

Click to Enlarge
In short, I'm still neutral to bearish on gold, silver, and gold stocks. Last week's report showed these same patterns and it takes time for patterns to mature. The market always tends to take longer than we think to start a move.
At the moment, I am waiting for metals to form a low-risk entry point, and it looks to me like we could take a short position for another downward thrust if the market unfolds as the charts predict. However, the move after that will be to buy gold for another long-term holding position as inflation inevitably rises.
By Chris Vermeulen of TheGoldAndOilGuy.com