The Dow, the Transports, and a Trip to Mars
10/26/2015 6:00 am EST
Focus: MARKETS
For the benefit of all newbies with questions regarding Dow Theory, Greg Harmon, of Dragonfly Capital, reviews the Dow signal's importance today against the S&P 500 (now considered the key market benchmark). However, Greg shares some reasons as to why he still thinks the Dow signal holds value.
Here's some classical technical analysis. One of the oldest US forms of technical analysis is Dow Theory. It has many tenets but the one that is most watched is a signal that confirms the primary trend in the market. This is an old set of ideas, dating back to when the Dow Jones Industrial Average was important to traders (only news presenters use it now) and there were three averages: the industrials, transports, and utilities.
This was enough then because trains and utilities were all there was in public companies outside of industrial manufacturers. And the signal that was widely watched was for the Industrial Average and the Transportation Average to make new highs to confirm the primary trend higher. Utilities were the equivalent of bonds for investors at that point, so it makes sense if the other two sectors are making higher highs that the market is going higher...to the moon.
But now the Dow industrials have less importance and the S&P 500 (SPX) is the key market benchmark. That is okay. The Dow signal still holds value. But if we move to the current environment then maybe upon confirmation we should shift towards looking for the market to go to Mars.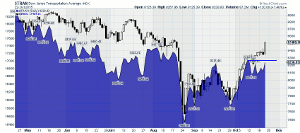 Click to Enlarge
The chart above can be used to show how this signal is be interpreted. With the price action over the last six months shown, both indexes were in a downtrend. But after the August bottom they made a high in mid-September before pulling back. From the higher low, the industrials have now moved over the mid-September high.
And though the transports have technically done the same, they have stalled. A continuation higher over the 8260.93 high from October 12 will seal the deal and solidly confirm the primary market trend higher towards Mars.
By Greg Harmon of Dragonfly Capital