The Secret of Oracle's Success
06/21/2011 10:38 am EST
Focus: STOCKS
The database giant is helping its customers cut jobs, and should post another strong result after Thursday's close, writes MoneyShow senior editor Igor Greenwald.
The executive team at Oracle (ORCL) is a competitive and profane bunch, possessing a passion for sports ranging from sailing to tennis (not to mention some of the sharpest elbows in Silicon Valley.)
So perhaps some locker-room clichés would best convey the import of the database giant's impending earnings report after Thursday's closing bell.
So: It's crunch time in the tech arena. Time to man up and run over some people. If not for glory, or the money or the fear of getting cut, let's win one for the testosterone-fueled skipper, who doesn't handle losing very well.
There's been plenty of that in tech land lately, as this chart shows: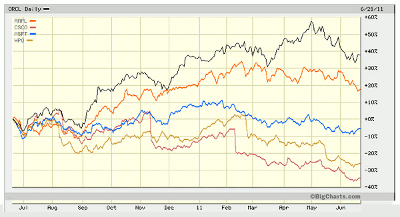 Click to Enlarge
Oracle President Mark Hurd used play for Hewlett Packard (HPQ), and ran up HP's share price 134% during his tenure. But he allegedly fiddled some expense reports to conceal dates with a corporate cheerleader, and was set loose to work his bachelor magic for Oracle, whose stock is up 39% since he came aboard.
The timing was somewhat fortuitous, but good players make their own luck—and Oracle has knocked every report out of the park since Hurd came over.
For comparison's sake, just look at one-time tech superstars Microsoft (MSFT) and Cisco Systems (CSCO). They haven't performed for years.
Even Apple (AAPL), the juggernaut built by Larry Ellison's pal Steve Jobs, is down 15% from its top, just like Oracle was recently. On a cash-flow basis, in fact, Apple is now cheaper than Oracle, despite sporting a much niftier growth rate.
Not that the 37% revenue gain posted by Oracle three months ago is anything to sneeze at—poor old HP, after all, couldn't even manage 5% the last time out.
The bar for Oracle's turn Thursday has been set at a reasonable 12%, year-over-year. Earnings per share are expected to increase 31%, after several estimate bumps by bullish analysts in the last month.
Until recently, the market was a bit worried that the debt crisis and austerity in Europe had curtailed server sales there. But several analysts have since opined that Oracle's quarter closed well, and the company is selling some powerful new products that are a hit with flush corporate customers.
Some professionals are sufficiently bullish to believe there's a 25% upside from here. Of course, that also implies plenty of room for disappointment. But I wouldn't bet on that just yet.
Oracle's recent success owes much from the new corporate model it has helped foster: high-level executives hidden away on a leafy US suburb, manipulating layers of database and application software. Expensive though these widgets may be, they're considerably cheaper than the health premiums for layers of middle management the software has replaced.
Oracle still maintains a mighty sales force, of course. But perhaps not for long with Hurd on board. The concept, after all, sells itself.
Oracle is, however, supporting an army of lawyers. Even good teams need some help from the referee now and again.