3 Biotechs That Remain in Rally Mode
06/28/2012 12:05 pm EST
Focus: STOCKS
Neither market weakness nor jitters about a decision on the health-care law have hurt many of the leaders from the biotech sub-sector. Here are some showing unusual technical strength, according to MoneyShow's Kate Stalter.
I've written frequently here about the medical sector, and with good reason: It's home to many of today's top-performing growth stocks, including many that have been more or less "correction-proof." Click to Enlarge
One stalwart that I've tracked for months is Alexion Pharmaceuticals (ALXN), which is up 5.9% so far in June, far outpacing the S&P 500's gain of 0.3%. But Alexion and fellow price leaders like Questcor (QCOR) and SXC (SXCI) are not the only health-care standouts right now.
Of course, a great deal of attention has been focused on managed-care providers recently, given the Supreme Court's ruling on the health-care law, expected any day this week.
Very few of the big insurance companies have been on my screens this year, because they have tended to be mediocre price performers (or worse). But as institutions sold off the health insurers' stock over worries about the effects of the health-care law, many biotechs suffered no such decline.
This is where it's instructive to understand that all sub-sectors within a broader industry don't always move in tandem. Smaller biotechs are frequently viewed as acquisition targets. In addition, optimism about their product pipelines often spurs investment.
In addition to large-cap Alexion, another large-cap biotech that's holding up well is Biogen Idec (BIIB), which makes treatment for cancer, multiple sclerosis, and other serious conditions.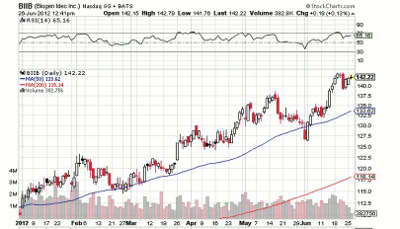 Click to Enlarge
The stock is up 29% year-to-date, and like Alexion has continued to post strong gains in June—up 8.8% so far this month, to around $142. As of Monday, when the market was selling off again, Biogen Idec was trading in positive territory, only slightly off last week's all-time intraday high of $143.48.
Right now, this stock is out of buy range. In any case, the volatile nature of the market has caused me to put any new long trades on hold. With traders, as well as institutional investors with a longer time horizon, still gun shy over the macro picture in Europe and the Middle East, as well here in the US, it's OK to forego some potential quick gains in the greater interest of preserving principal.
But even when market conditions make trading difficult, it can be worth the wait. A pullback can set the stock up for another run-up, once the market goes into a more decisive uptrend. For longer-term investors who like to use fundamental analysis, this also serves the purpose of making multiples more attractive.
Another biotech I'm eyeing as it consolidates is Vertex Pharmaceuticals (VRTX). The company makes treatment for Hepatitis C and other ailments.
This is one of those stocks that's in no-man's-land between being a mid-cap and a large-cap. Its market value is just north of $12 billion, and it moves about 4.3 million shares a day, so not bad liquidity.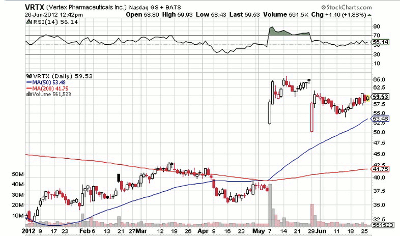 Click to Enlarge
The stock bolted 55% on May 7, after good clinical trial results for its cystic fibrosis treatment, utilizing two different meds.
The company is expected to report its second quarter sometime around July 26, with analysts anticipating income of 63 cents a share on revenue of $485.86 million. Those would be significant improvements from the year-ago quarter, when the company reported a loss of 67 cents per share on revenue of $114.4 million.
Vertex's chart is bullish right now. After gapping up in May, the stock retreated into a normal consolidation, finding support above its ten-week average, which, of course, had moved higher.
As of Monday's close, the stock was up nearly 76% year-to-date, with a big chunk of that coming from the 56% jump in May.
This is a stock that I would consider buyable in better market conditions. However, as noted above, the market uncertainty means even strong performers could be dragged down suddenly, or, at best, go nowhere for a lengthy period of time. Best to wait this out for the time being.
With so much focus on health care at the moment, it would be easy to write off the entire sector. But a look at some of the biotechs shows that there could be potential in that sub-sector, regardless of news developments expected to hit this week.
At the time of publication, Kate Stalter did not own positions in any of the stocks mentioned in this column.
Related Reading: