Example of Ratio Put Spread on Harley-Davidson (HOG)
07/02/2010 12:01 am EST
Focus: OPTIONS
Harley-Davidson Inc. (HOG) has been targeted by an unusual round of options activity. Specifically, it appears that a trader has opened a ratio put spread on the shares by purchasing 2,000 August 22 puts for $1.85, or $185 per contract, and selling 1,000 August 26 puts for $4.40, or $440 per contract. Since the 26 puts were sold for more than the total cost of the 22 puts, the strategy results in a credit of $0.70, or $70 per contract.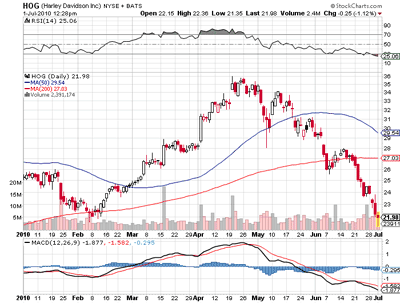 Click to Enlarge
There are two ways that the trader can profit from this position. First, HOG shares could rebound from long-term technical support in the $22 region and move back above $26 per share, in which case the trader will be able to retain his initial credit of $0.70. Second, since he purchased two 22 puts for every one 26 put, the trader can benefit from a continued decline in HOG shares.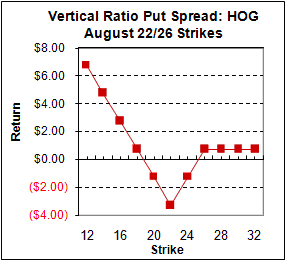 For instance, if HOG falls to $18 per share at August expiration, the two 22 puts would be worth $8.00, while the one 26 put would be worth $8.00. While the trader would close both halves of this trade out at breakeven, he would still retain his initial credit of $0.70. What's more, any additional declines below $18 per share would add to the trader's profit.
By Joseph Hargett, contributor, Schaeffer's Trading Floor Blog