Don't Let Call Volume Fool You
06/28/2011 8:00 am EST
Focus: OPTIONS
Recent call volume in Tesla Motors (TSLA) looks bullish on the surface, but with short interest also rising, it may simply indicate that short players are hedging their bets, serving as a valuable lesson for option traders.
Call players have taken a shine to Tesla Motors Inc. (TSLA) in recent sessions, according to data from the major exchanges. During the past five days, traders on the International Securities Exchange (ISE) and Chicago Board Options Exchange (CBOE) have bought to open 2,179 calls on TSLA, as compared to just 35 puts. In other words, speculators scooped up 62.3 times more bullish bets than bearish over the course of the past week.
From a broader perspective, TSLA has racked up a ten-day call/put volume ratio of 3.29 on the ISE, CBOE, and Nasdaq OMX PHLX (PHLX). This ratio reveals that calls bought to open have more than tripled puts during the past couple weeks, and it ranks above 66% of other such readings taken during the previous year. This indicates that option players have purchased calls over puts at a much-faster-than-usual pace lately.
In the front-month series, call players have concentrated their efforts at the July 29 strike, which carries peak call open interest of 3,959 contracts. However, the July 30 call isn't far behind, with 3,536 contracts outstanding.
Another notable accumulation of 3,359 contracts can be found at the July 33 call. With TSLA lingering just shy of $28 on the charts, all of these calls are out of the money.
Bullish or Just Hedging?
However, after checking out the rest of the stock's sentiment backdrop, it seems that call buyers aren't necessarily betting bullishly on TSLA. Short interest on the equity rose by 1.2% during the most recent reporting period and now represents a hefty 26.7% of the stock's float, suggesting the option activity may be linked to increased hedging.
Whenever short interest and buy-to-open call volume are accelerating simultaneously, it's possible that bears are using out-of-the-money options to limit their upside risk.
By purchasing calls at overhead strikes, short sellers can insure against a rally in the shares for a relatively minimal cash outlay. Without this "insurance," the short seller is exposed to theoretically unlimited risk in the event of a breakout move by the stock.
This theory certainly seems to hold water after eyeing TSLA's technical performance. The stock has eked out a decent 4.1% gain in 2011, but recent rally attempts have been halted in the $28-$30 neighborhood, which marked the site of a bearish gap by the shares back in late December.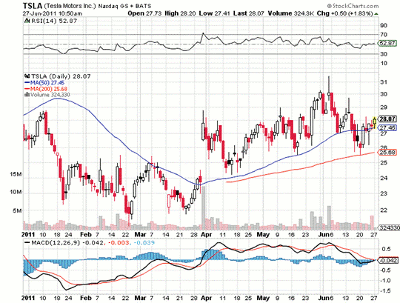 Click to Enlarge
This technical ceiling roughly corresponds with the aforementioned heavy call open interest accumulations in the July series of options. By acquiring call hedges at strikes that align with existing technical resistance, short sellers can allow themselves some upside "wiggle room" while still maintaining their bearish exposure to the underlying equity.
Ultimately, options players might not be quite as optimistic as they appear, but not everyone on Wall Street is skeptical of TSLA.
According to Zacks, the stock has racked up four "buy" or better ratings from analysts, along with just one "hold" and one "strong sell." Likewise, Thomson Reuters pegs the equity's average 12-month price target at $37.67. That's in territory not yet charted by TSLA shares.
By Elizabeth Harrow, contributor, Schaeffer's Trading Floor Blog