"First Rate" Short Sell in Priceline
08/24/2011 8:00 am EST
Focus: STOCKS
Shares of Priceline.com (PCLN) are now reversing what has been an amazing uptrend, and a proven trading system has issued a sell signal. Here is an idea for safely shorting the popular travel stock.
The astounding run that Priceline.com (PCLN) recently completed is truly a textbook-quality example of a powerful trend move, one that the Raff MarketSpace Stock system used to great advantage for nearly ten months as the stock powered all the way from $182.27 to $561.88.
Now, however, the tables have turned and PCLN has put in a double top, money flow has gone negative, and a fresh Raff MarketSpace Stock system sell signal (in the MetaStock platform) has just printed.
Is this a potentially good short set-up, or is it one better left alone? Let's see if we can find out now.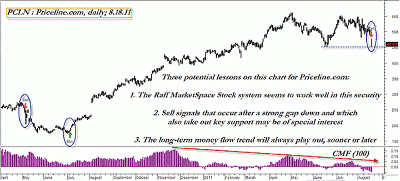 Click to Enlarge
The incredible, relentless advance by PCLN between summer 2010 and spring 2011 was certainly a trend move reminiscent of the Nasdaq mania days in the late 1990's. Like every trend, however, this one also matured, lost forward momentum, pulled back, made a second attempt at a new high, failed, and then began the messy process of engineering a major reversal in trend—from up to down.
Currently, the stock is perched right near a major point of chart support (the June 2011 swing low of $451.75) after gapping lower on heavy volume last Thursday.
On the daily graph of PCLN, note how long that money has been slowly draining out of the stock. The exodus began slowly, long before the current trend reversal got underway. This is almost always a tipoff that a stock or commodity is going to correct and/or reverse, but of course, you still need to wait for actual technical timing tools to guide you into when and how to enter such a trade once the reversal is underway and/or confirmed.
We certainly have that with the latest Raff sell signal. While no one knows how this one will play out, take a look at the last two trading signals, both of which were winners—certainly a hopeful sign.
Playing this move could be a bit tricky; you don't want to let a potentially good trend-following move go to waste, yet at the same time, you also don't want to go overboard, chasing a stock that may have gone a bit too far, too fast—and one that begins to reverse on you a few minutes after you sell short near the low of the trading session!
So with that in mind, how about considering putting on only half a short position on a drop below Thursday's low and then waiting for a minor intraday rebound to go short the second half, all the while maintaining a stop-loss near $486, which is the top of the recent open gap?
Size your position so that the whole thing won't put more than 1% or 2% of your account value at risk and then trail the entire position southward (if the trade goes the way we anticipate), with a two-to-three-bar trailing stop of the daily highs.
This looks like a first-rate short sell, so do a bit of extra due diligence and see if you can't also find a few extra reasons to short PCLN here and now. I'll bet you can do that without even breaking a sweat!
See related: 3 Common Short Selling Mistakes
By Donald Pendergast of Linear Trading Systems