A Stock Running Out of Gas
01/24/2013 7:00 am EST
Focus: STOCKS
The only one of the "big three" US auto companies that didn't receive a government bailout, this company's share price has recovered nicely from a bottom of $9.95 in October 2011, but the party might soon be over, notes Donald Pendergast of Linear Trading Systems.
Anytime that a household-name large-cap stock makes impressive gains in the period of a few months, you can be pretty sure that the investing 'herd' (generally less informed and less well capitalized than their smart money competitors) will begin to pile in, usually after the majority of the big gains have already been made by those with the foresight to have taken positions at the early onset of a large trend.
With shares of Ford Motor (F) now up by more than 60% in just 5 1/2 months, and with evidence of mildly parabolic, frenzied buying pressure in the weeks just preceding its most recent sustained advance, the money flow and cyclical dynamics in this stock are now clearly warning that a major correction and/or trend reversal is likely within the next month or so. Let's take a closer look now.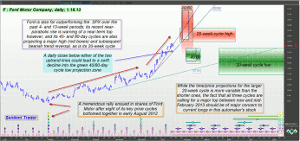 Click to Enlarge
Looking at Ford's daily cycles chart, we find that no less than eight separate price cycles (ranging from four days to 22 months in length, measured from trough to trough) all bottomed more or less simultaneously on August 2, 2012—the eight stacked diamonds depict this event—at a price of 8.82 after which shares of Ford, not surprisingly, began an extended bullish rally that never really looked back, despite several ordinary corrections along the way. By the time mid-December 2012 rolled around, Ford really kicked it into high gear, rapidly rising to as high as 14.30 by January 15, 2013.
Ford is still right at the top of the list in terms of its 4- and 13-week relative strength vs. the S&P 500 index, and when a stock is performing so well, that's when momentum traders/investors and big mutual funds tend to get interested, plowing in even more cash, which temporarily keeps the rally going—even as the smart money is all too happy to unload their shares into the hands of these kinds of latecomers.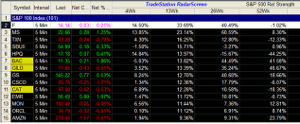 Click to Enlarge
Sometimes, the underlying trend is so strong that buying in once a rally is maturing turns out to be a great tactic, but right now, the long-term money flow trend in Ford is demonstrating that modest distribution is underway (smart money selling out their shares to the dumb money) even as the stock is getting ever closer to an anticipated multi-cycle high, one that is due to peak by mid-February 2013. The confluence of the three red boxes gives a general idea as the where/when to expect Ford to top out, even as the two rising trend lines advise that a daily close beneath either of them—before or after the red zones are reached, if at all—is likely to lead to a swift decline into either of the two green cycle low time/price projection zones.
Ford shares may go even higher in the next few weeks, but be aware that the technicals discussed above strongly hint at a major corrective move in this automaker's share price during the first quarter of 2013. If you're already long Ford, be sure to run a trailing stop and be ready to jump ship if the aforementioned trend lines are violated. Until next time, trade with the highest probability cycles.
By Donald Pendergast, Jr., Founder, Linear Trading Systems