5 Attractive Stocks in a Rising Market
01/29/2013 7:00 am EST
Focus: STOCKS
Continued geopolitical turmoil, including the recent attach on an Algerian pipeline, hasn't seemed to affect the price of crude oil much, but Chris Vermeulen of TheGoldAndOilGuy.com thinks that can soon change.
Crude Oil (USO) has been treading water for the past year between the 2011 high and low. The trading range through 2012 has been contracting with a series of lower highs and higher lows. This pennant formation [also known as a sideways narrowing triangle formation], because it is taking place after an uptrend, is a bullish pattern with $110 and possibly even $140+ per barrel in the next 6-18 months.
If you look at the weekly investing chart of crude oil, the key support and resistance levels are clearly marked. A breakout of the white pennant will trigger a move to the next support or resistance level. And judging from the positive economic numbers, not only from the USA but globally, the odds are increased for the $110+ price target to be reached sooner than later.
Crude Oil Price Chart – Weekly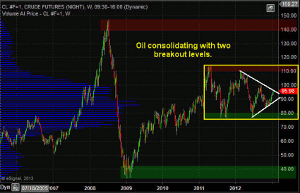 Click to Enlarge
Short Term Analysis & Target
If we zoom into the daily chart and analyze price and volume, you will notice the $100 per barrel level is potentially only two-three days way…. But keep in mind whole numbers (decade and century numbers) naturally act as support and resistance levels. So when the $100 century price is reached, there will be a wave of sellers with fat thumbs who will slam the price back down to the $96 and possibly back down to the $92 level before oil continues higher.
Crude Oil Price Chart – Daily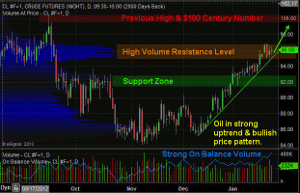 Click to Enlarge
Utility Stocks
The utility sector (XLU) has done well and continues to look very bullish for 2013. This high dividend paying sector is liked by many and the price action speaks for itself, see the chart below.
XLU Weekly Chart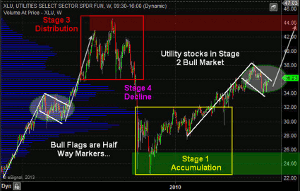 Click to Enlarge
Energy Sector
Energy stocks which can be followed using the (XLE) exchange traded fund, typically lead the price of oil. Looking at energy stocks, we can see that they are outperforming the price of crude oil and on the verge of breaking out of a large cup & handle pattern. If so, then $90 is the next stop but prices may go much higher in the long run.
XLE Weekly Chart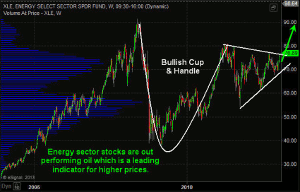 Click to Enlarge
Energy Stocks and Crude Oil Conclusion
In short, crude oil is stuck in a large trading range much like gold (GLD) and silver (SLV), which we have discussed previously.
Once a breakout takes place on either the white or yellow lines on the first crude oil weekly chart, we should see oil, energy, and utility stocks start making some big moves. Depending on the direction of the breakout (up or down), it must be played in that direction to generate substantial profits obviously.
By Chris Vermeulen of TheGoldAndOilGuy.com