Is Tesla Flashing a Warning Sign?
10/31/2013 7:00 am EST
Focus: STOCKS
Cracks in high momentum "story" stocks are important to pay attention to, as even small dents may indicate that a decline in stocks overall is next, says Michael Gayed on Minyanville.
Inevitably, all late-stage bull markets become enamored with a number of "story" stocks, where investors pay astronomical multiples for future prospects rather than current income and cash flow. The allure of these stocks becomes too great for retail investors to resist, as they can no longer stand to hear about friends and neighbors doubling and tripling their money in short periods of time.
In the '60s and '70s there was the "Nifty 50," a term used to describe 50 popular large-cap stocks that traded at high multiples due to their categorization as solid, consistent earnings growers. In the '90s, there was the dot-com mania, where anything remotely related to the Internet was given a premium multiple. While a few of these story stocks did in fact grow into their lofty multiples over time, the vast majority failed to live up to great expectations.
In 2013, the story stocks are a mix of companies with "disruptive" technologies. These include social media companies like Facebook (FB), LinkedIn (LNKD), Yelp (YELP), Pandora (P), and Groupon (GRPN); solar power companies like SunPower Corporation (SPWR) and Solar City (SCTY); online media companies such as Netflix (NFLX); and electrically-powered vehicle companies like Tesla (TSLA). All of these companies are up multiples of the S&P 500 (SPX) this year, and are often referred to as market "leaders" or "momentum" stocks. As a whole, these companies can be good barometers of investor sentiment and risk appetite within a market. When they are rising and outperforming, it is generally favorable for the market and risk appetite; when they are falling and underperforming, it is often a cautionary signal for the overall market.
In recent weeks, we have seen some deterioration within these leaders. In the chart below of the Global X Social Media ETF (SOCL), you can see that it is beginning to underperform the S&P 500 (SPY) and has been moving lower over the past week even as the S&P 500 continues to hit new all-time highs.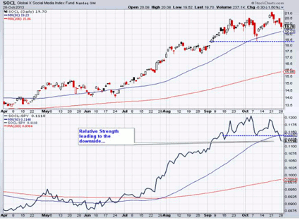 Click to Enlarge
We are seeing similar weakness in Telsa (TSLA), the front-runner for top story stock of 2013.
It has failed to hit a new high with the S&P 500 over the past two weeks and its relative performance against the S&P 500 is deteriorating. It is also possibly forming a bearish technical chart pattern known as a head-and-shoulders top.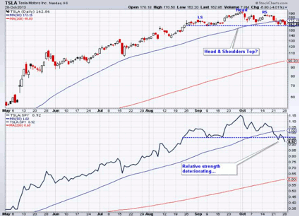 Click to Enlarge
Overall, investors should take note of the message the leaders are sending here. Their weakness could be an early sign that traders are beginning to lose faith in the "story."
With stocks like Telsa trading at 267x this year's earnings, the maintenance of faith is very important. Without it, they can fall very quickly as we have seen in the past.
At the very least, then, fragility in the story stocks is a cautionary signal with the potential for greater significance if this weakness persists. The models my firm uses for managing our mutual fund and separate accounts are currently in long-duration bonds, reflecting a more cautious outlook until the environment for equities becomes more favorable.
Michael Gayed, Contributor, Minyanville