Will Twitter Follow Facebook and LinkedIn?
11/08/2013 7:00 am EST
Focus: STOCKS
The most anticipated IPO of the year has finally happened, and Moby Waller of BigTrends.com offers his ideas for playing this and other social media names.
Twitter (TWTR) debuted for trading on Thursday; this is the most hyped and anticipated initial public offering (IPO) since Facebook (FB) in 2012. A price around $25/share gives Twitter a market cap valuation of around $14 billion and around 12x estimated 2014 sales. The company isn't currently profitable, but does have a growing membership base of 230+ million people globally.
We're not going to delve deeply in-depth into the IPO prospectus fundamentals of the Twitter filing here—obviously it is an extremely well-known name in the area of social media, and there remain serious questions of where large amounts of future revenue and/or profits will come from. Sponsored tweets, news/info gathering, and mobile advertising seem to be the most likely revenue streams, but there may be other uncovered and underexploited areas that haven't come along yet.
There are many similarities in my view with the Twitter IPO and the Facebook (FB) one last year. At the time, many were openly skeptical of the FB pricing and valuation, not to mention its revenue streams. Yet FB has found growth in profits and revenues (including in places that weren't entirely anticipated), and the stock has gained around 100% just from July of this year (after a poor performance in its first few months of trading). We'll delve more into what Facebook (FB) and LinkedIn (LNKD) stock did after their IPOs later in this article.
First, below is an interesting infographic (found on Twitter of all places) of some of the most well-known Internet and social media stocks and how they have performed since their IPO. Includes Amazon (AMZN), eBay (EBAY), Yahoo (YHOO), Google (GOOG), LinkedIn (LNKD) and Facebook (FB).
$1000 Invested in Some Major Internet IPOs

Click to Enlarge
Now, of course, this graphic doesn't show all of the big Internet IPOs since that late 1990s (remember that hundreds of stocks went to 0 after the Internet Bubble), or even all of the major technology sector ones in the past 10 years. But these are some of the main Internet companies/stocks that come to mind to the average person—and all of them have been profitable stocks in the longer-run (some widely so) if bought on the first day of trading.
It seems that if you picked one of these true "winners" and household names of the Internet to invest in, you have done well. And Twitter is definitely one of those household types of names. Whether the company (and more importantly, the stock) will prosper into the future isn't certain for sure—remember that MySpace was once the hottest property on the Internet and social media. But with Twitter increasingly establishing strong niches in journalism/global news, pop culture, politics, marketing/branding, entertainment, and many other areas, it doesn't seem likely to go away any time soon.
There is definitely some skepticism in the general financial media about the TWTR IPO and its pricing/valuation, similar to Facebook (but not quite as severe in the overall negativity in my view). A simple Google search of "twitter ipo" will show you a good amount of skepticism/negativity in the top articles from the most well-known mainstream financial Web sites. However, we saw a very similar thing occur with the Facebook IPO last year—there was a general negative bias and perception among most about that pricing, if you remember.
NEXT PAGE: How Did Facebook and LinkedIn Do?
|pagebreak|
The chart below shows FB stock from the first day of public trading—it had an immediate plunge, then a roughly year-long consolidation phase in the 20 to 30 range, before gapping above that and continuing higher. In the case of FB, waiting a couple of weeks to several months after the IPO to jump in allowed for a good lower entry price and some very nice gains.
FB Daily Chart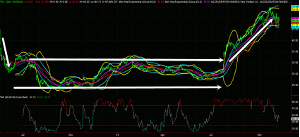 Click to Enlarge
Next below, take a look at LinkedIn (LNKD) stock following its IPO in 2011 until its major breakout came in early 2013. LNKD closed at 220 Wednesday for reference, tacking on another 40 points of gains since the data captured on this chart. Here again, LNKD was not necessarily a buy on its IPO day—had an immediate drop notated by the down arrow. Then the shares entered a 1.5 year long wide range of between roughly 60ish to 100/120 before breaking out to the upside. Nonetheless, those IPO first day buyers are very profitable overall—a similar pattern to FB, although different in length and width.
LNKD Daily Chart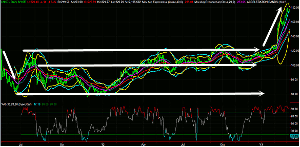 Click to Enlarge
Obviously, LNKD, FB, and TWTR are all different stocks & companies—for example LinkedIn focuses on business users, professionals and career networking, which is seen as a lucrative niche that is more willing to splash the cash. Facebook began as an American college social networking site, but is now a global "family and friends" behemoth with gaming and advertising among several revenue streams (and they own Instagram by the way). Twitter is a very short-form medium (140 characters) that is deceptively simple and almost inelegant at first glance. But it is very popular on phones and for mobile use and has a younger demographic than Facebook. It also is rapidly becoming the world's "breaking news" headline source. Twitter owns the Vine video-posting service as well, which is in direct competition with Instagram currently.
What is the next big Internet or social media IPO to come after Twitter? Well perhaps a Pinterest (or a Reddit) or one of many emerging technologies, or one of many companies from Asia and elsewhere around the globe. Some of the other big names that may pop into your head aren't going to be traded any time soon: Wikipedia is a non-profit (founded by a former Chicago trader by the way), Tumblr is owned by Yahoo, and YouTube is owned by Google, PayPal is owned by eBay (not to mention, for example, that content providers with strong brand names such as Huffington Post and IMDB are already owned by AOL and Amazon, respectively)—sidenote, from my perspective, YouTube has basically become a massive global TV network and Wiki is basically the global freesource encyclopedia of knowledge, there is a large amount of value in those properties.
Based on the history of some of the most well-known Internet and social media companies and the more recent stock action of similar IPOs such as LNKD and FB—the bottom line to me is that if in your own analysis you determine that TWTR is here to stay and will continue to thrive, an investor could look for a good lower-risk entry point after the initial IPO day of trading. The shares may settle in at or touch lower, psychologically important round numbers such as 20 (or even 15 could come into play). On the upside, 25 and 30 will likely be important levels in the early months of its trading.
Editor's Note: TWTR opened at $45.10—watch round downside levels such as $40, $35, $30 if it pulls back in the coming days/weeks.
Moby Waller, Co-Portfolio Manager, ETF Tradr Program & Rapid Options Income, BigTrends.com