Japanese Stocks with Low P/FCF Ratios Win Big with a Tax Cut
08/06/2014 7:00 am EST
Focus: GLOBAL
The International Monetary Fund's outlook for Japan inspired the staff at Kapitall.com to take a closer look at several Japanese stocks they have screened as undervalued with price to free cash flow ratios below 15.
The International Monetary Fund (IMF) released its latest review of Japan's economy on last Thursday, and the financial body says that, while the nation is slated to see high growth this year, failure to realize the goals of its economic reform plan could dampen future expectations and raise concerns over the country's finances.
So far, Abenomics—the term used to describe Prime Minister Shinzo Abe's economic policy—has placed Japan's economy on track for 1.6% growth in 2014. A surge in consumer spending preceding Abe's mandated consumption tax hike and an increase in business investment drove the economy to faster-than-expected expansion in the first quarter. As a result, the IMF revised its growth forecast for Japan last week, raising its projection to 1.6% from 1.3%.
But the fund expects Japan's growth to slow to 1.1% in 2015 as the country enacts Abe's third arrow initiatives and grapples with a shrinking workforce. The IMF states significant structural reforms to the labor market, risk capital provision, and agriculture and services regulation are needed to move Japan away from deflation and low growth in the coming year.
Abe's policies, the IMF notes, have potential to help the economy in the long-term, but certain factors, such as Japan's high level of debt and uptick in energy imports following the 2011 earthquake, make their success uncertain. The body praised Abe's new economic revitalization strategy—the third arrow of his economic reforms—and called for its rapid implementation. Per the plan, Japan's corporate-tax rate would be lowered from 35.6% to under 30% in the coming years, companies would be urged to drive up their ROE to match global figures, deregulation would take place in several sectors, and the workforce would bring in more women and immigrants.
The IMF's outlook on Japan inspired us to take a closer look at Japanese stocks. We began with a group of stocks from Japan and subsequently screened it for undervalued stocks with a price to free cash flow (P/FCF) ratio below 15.
The P/FCF ratio is a valuation metric that shows investors whether a stock's price is high or low relative to its annual free cash flow, which is operating cash flow minus capital expenditures (money spent on equipment, upgrading infrastructure, etc.). A company can use its free cash flow for a number of things, such as paying dividends to shareholders, starting a share buyback, and making acquisitions.
NEXT PAGE: The Unloved Japanese Stocks to Watch
|pagebreak|
Our interest in stocks with low P/FCF ratios was two-fold: we frequently like to search for potential investment opportunities for value investors and the IMF states in its assessment that Abe's actions regarding corporate governance reforms could make it easier for companies to use their cash more effectively.
For our final screen, we looked for stocks that were rallying about their 20-day, 50-day, and 200-day simple moving averages (SMA). We did this because, even though Abe announced his new economic revitalization strategy over a month ago, the response was warm, with Nomura Securities' chief economist Tomo Kinoshita telling The Wall Street Journal that the proposed corporate reforms exceeded market expectations.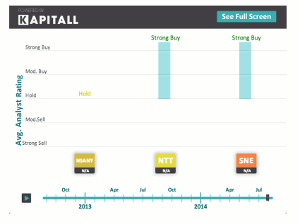 Click to Enlarge
1. Nissan Motor Co, Ltd. (NSANY): Engages in the manufacture and sale of automotive products, industrial machinery, and marine equipment primarily in Japan, North America, and Europe. Market cap at $36.56B, most recent closing price at $17.93.
P/FCF at 6.45. The stock is rallying 1.48% above its 20-day SMA, 4.30% above its 50-day SMA, and 9.81% above its 200-day SMA.
2. Nippon Telegraph & Telephone Corp. (NTT): Provides telecommunications services to residential and business customers in Japan. Market cap at $63.87B, most recent closing price at $28.08.
P/FCF at 12.13. The stock is rallying 1.57% above its 20-day SMA, 6.59% above its 50-day SMA, and 18.97% above its 200-day SMA.
3. Sony Corporation (SNE): Designs, develops, manufactures, and sells electronic equipment, instruments, and devices for consumer, professional, and industrial markets worldwide. Market cap at $18.05B, most recent closing price at $17.40.
P/FCF at 5.2. The stock is rallying 9.02% above its 20-day SMA, 11.22% above its 50-day SMA, and 5.71% above its 200-day SMA.
Editor's Note: This article discusses one or more securities that do not trade on a major exchange. Please be aware of the risks associated with these stocks.
By the Staff of Kapitall.com