Nintendo Enters the Smartphone Market
03/26/2015 7:00 am EST
Focus: STOCKS
Chris Lau, of Kapitall.com, discusses the expectations—and obstacles standing in the way—of this Japanese multinational consumer electronics company since recently announcing its plans to enter the fiercely-competitive mobile gaming industry.
Nintendo's stock has shot up following the news that it will enter the mobile gaming market.
Nintendo's (NTDOY) announcement on March 17 that it would enter the mobile market sent share prices as high as $22.15 before pulling back below $20 last week. Nintendo is partnering with DeNA-a large Japanese mobile games company-to produce apps for smartphones using Nintendo characters. Is the rebound in the company's stock sustainable or will Nintendo fall back to pre-rally lows?
Nintendo is not a fundamentally great company. In January, it revised its previous forecast by revising net sales down 6.8% and operating income down 50%. Due to the fall in the yen against the dollar, however, ordinary income was revised up by 42.9% and net income up by 50%. When Nintendo announced it would enter the smartphone market, expectations were high from investors the company would find sales growth again.
There are obstacles. The competition for making top smartphone apps is fierce. Companies achieve high downloads for different reasons, such as a freemium model or word of mouth. Glu Mobile (GLUU), for example, has demonstrated that it understands the mobile market: the firm spreads its risks by developing a host of games. Its initiative with Kim Kardashian is yielding positive results.
Mobile games sell at a lower price point than games for Wii U or 2DS/3DS. Nintendo will have to adjust to this market.
Console Market Still Healthy
Sony's (SNE) entry into the Chinese market proves how much room there still is for growth in consoles. As Bloomberg notes, the firm hopes to win over smartphone game players by introducing the PS4 in China.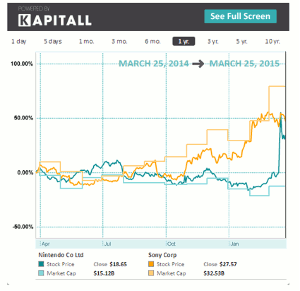 Click to Enlarge
Game makers like EA (EA) develop titles for smartphones. So far, sales are growing steadily and the stock is responding favorably: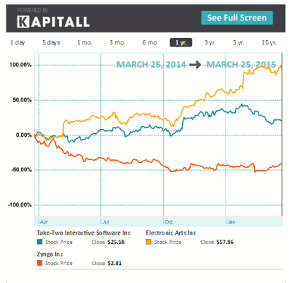 Click to Enlarge
Not Too Late
Nintendo's move into the smartphone market is not a late one, because quality titles will always find demand. The mobile market is competitive, but there are so many apps created daily that the terrain is constantly shifting. Nintendo benefits from a recognizable brand name. The firm may even sell controllers or hardware add-ons alongside mobile games. By facilitating game play, Nintendo may boost both hardware accessory and game sales.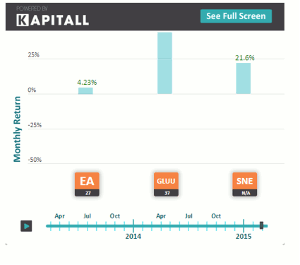 Click to Enlarge
1. Electronic Arts Inc. (EA): Develops, markets, publishes, and distributes game software and content for video game consoles, personal computers, mobile phones, tablets, and electronic readers, hand held game players, and the Internet. Market cap at $17.97B, most recent closing price at $57.96.
2. Glu Mobile Inc. (GLUU): Engages in the design, marketing, and sale of casual and traditional mobile games worldwide. Market cap at $520.67M, most recent closing price at $4.83.
3. Sony Corporation (SNE): Designs, develops, manufactures, and sells electronic equipment, instruments, and devices for consumer, professional, and industrial markets worldwide. Market cap at $32.13B, most recent closing price at $27.57.
By Chris Lau of Kapitall.com