Dumb Money Piles into Silver
05/27/2015 7:00 am EST
Focus: COMMODITIES
Tiho Brkan of TheDailyGold.com provides a quick technical update in the metals space, with specific attention paid to the rapid price decent of Silver, what he sees as the main culprit behind the drop, and if this is indicating that we may be in store for a classic shake out.
Tuesday's chart of the day focuses on Silver yet again. The post that was featured on the blog during middle of the month was a good alert to participate for a short-term trade in metal on the long side. Those who did that would have profited some nice and quick gains. But the situation has changed rather rapidly.
Chart of the Day: Funds Pile into Silver, Meaning Price Is Going Lower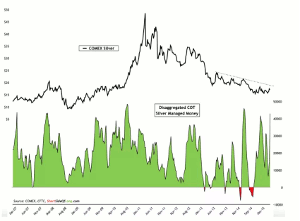 Source: Short Side of Long
Click to Enlarge
Over the last week, traders are wondering why has the price of Silver started to fall so quickly. After all, technical breakout just occurred? The truth is dumb money, in the form of hedge funds, have piled into the precious metals sector…and especially in Silver. The chart above shows hedge fund contracts sitting close to 45,000 net longs. Are we in store for a classic shake out?
By Tiho Brkan of TheDailyGold.com