How I Use Momentum in Forex Trading
Focus: FOREX
The Momentum Box
Often times, there is a pattern in our current trending markets whereby the pairs consolidate for quite a period of time after a series of impulsive/trending moves. When this happens, as the markets get bottled up between a floor and a ceiling, you often see what I refer to as the "Momentum Box."
This is where the 12-period Momentum indicator gets boxed up as well between a floor and a ceiling. This setup becomes an opportune time to help us forecast when a legitimate breakout is occurring, how to trade it, and when to exit the position.
Looking at our first chart, Figure One is the EUR/USD on the one-hour chart. For now, concentrate on the 48-hour price action, hemmed within a 190-pip range on the pair, as delineated by the two white horizontal lines on the chart. Now, also take note of how the momentum indicator got hemmed into a tight range, or "Momentum Box" as well during the same time period. When the momentum indicator gets confined in such tight parameters, it's telling you the internal momentum for the pair is clearly weak and that the order flow behind such price action is not favorable for a bullish/bearish move.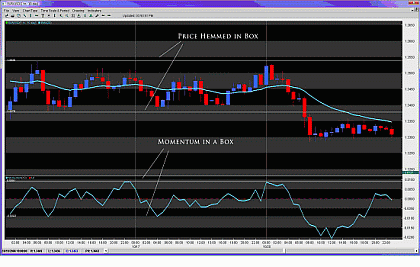 Essentially, the order books are about fairly even, and the institutional players are deciding upon the next move, but have not placed their bets at that point. This is where the box and the momentum indicator can tell us when the range is going to break, and how to trade the move.