Can Uncertainty Create USD Opportunities?
01/08/2016 8:00 am EST
Focus: CURRENCIES
Yohay Elam, of ForexCrunch.com, shares the favorable outlook for the USD from the staff of BNP Paribas, courtesy of eFXnews. The staff outlines the reasons they feel the greenback could regain ground, especially against the Japanese yen.
The US dollar has gained against commodity currencies and the pound, but is ceding territory to the safe haven euro and yen. Yet the team at BNP Paribas explains how the greenback could regain ground, especially against the yen:
Here is their view, courtesy of eFXnews:
BNP Paribas outlook for the USD remains favorable as we head into the second week of 2016 and expresses via adding fresh long USD exposure this week. Here is their outlook, rationale, and trade details.
We see prospects for the USD to resume gains:
"Yield differentials moved significantly in the USD's favor in the final weeks of 2015 and we see scope for this process to continue, as the markets remain underpriced for the extent of Fed tightening we expect. A solid employment report on Friday 8 January should set the stage for what we expect to be a steady build up in the market pricing in a follow-on 25bp rate hike in March, from the current 13bp currently reflected in the OIS curve," BNPP argues.
The JPY has outperformed so far in 2016, but we favor fading this:
"While JPY gains vs the USD and commodity-bloc currencies are perhaps not particularly surprising in the context of rising risk aversion and market volatility, the JPY has also underperformed other funding currencies. As a result, the EUR/JPY cross has fallen to 10-month lows and the BOJ's nominal trade-weighted JPY is now back at levels prevailing before the BOJ's surprise easing in October 2014. We think JPY outperformance is unlikely to persist and that BOJ easing expectations will likely build if JPY gains extend further," BNPP adds.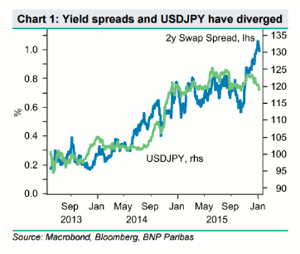 Click to Enlarge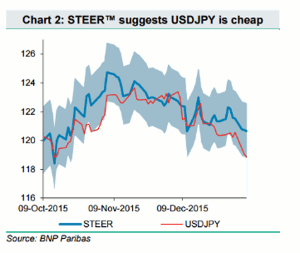 Click to Enlarge
To read the entire article click here…
By Yohay Elam, Founder, Writer, and Editor, ForexCrunch.com